Louisiana Tech scores well in alumni salary survey from Payscale
Louisiana Tech University has been named one of the state's top colleges for early- and mid-career salaries for graduates in Payscale's 2019 College Salary Report.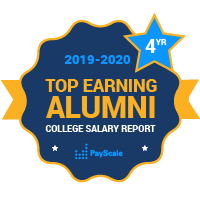 Tech graduates with fewer than five years experience in the workplace will earn median salaries of $53,000, while graduates with approximately 10 years in the workplace earn median salaries of just over $100,000.
"Their persistence and drive for excellence propels Tech graduates to their top of their careers," said Tech President Dr. Les Guice. "We're proud of the consistent and positive contributions Bulldogs make to their workplaces and communities."
Ranked second among public universities in the state for early-career salaries, Tech awards nearly a quarter of its degrees in STEM (science, technology, engineering, and mathematics) areas.
"Ranked by mid-career salary (10 or more years of experience), Louisiana Tech often takes the lead as the college with some of the highest paid graduates," the report stated.
A database of over 54 million salary profiles – with survey information from college graduates worldwide – helps PayScale compile the Salary Report each year.