President's legacy back on campus in new freshman
Caroline Clifton of Goshen, Ohio, is 18 and already a part of Louisiana Tech history.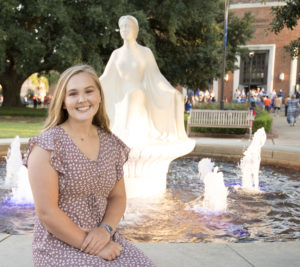 Now a freshman, Clifton is the great-granddaughter of Dr. F. Jay Taylor, who became the University's president in 1962 at the age of only 39. He was a World War II aviator, a historian, an author, and a visionary. He served as president until 1987, retired here, and passed away in Ruston in the spring of 2011.
But Taylor is still an influence today, and a piece of that influence is evidenced by Clifton's decision to attend Tech.
"The first time I was on the Louisiana Tech campus was in November 2018, and I came with my grandfather (Taylor's son Terry) and two cousins who are going to be high school seniors," she said. "By this time, I had already applied to Tech, but didn't see it as a very realistic option (because of the distance from her family's home in Ohio), but my grandfather encouraged my family members and I to go visit so we could see where he grew up. As a lover of history, especially family history, I was eager to see the place my Grandpappy had spoken so highly of, and to see the place that my great grandmother (Grandmommy) remembers so vividly."
It was a long day of traveling from Goshen — about 30 miles east of Cincinnati — but the gang made it to Monroe's airport, piled into a rental car, and drove west. It wasn't long before the pull of the past and a hope for her future won her over.
"As we arrived to Ruston, I immediately felt a sense of home," Clifton said. "The next day, (current Tech) President Guice met with us, and we had a personal and detailed tour of the campus. This tour included a glimpse of 'The White House,' the old president's house, and my grandfather was able to show my cousins and I Grandpappy's room and the place where he accidentally started a fire on the stairs. As we drove by the F.J. Taylor building (the Visual Arts Center) and saw Grandpappy's picture and name lining the halls of Louisiana Tech, I knew that I would feel at home here. Once I learned how important the Tech legacy was, I didn't consider any other college. I knew I wanted Tech.
"As I head into my freshman year," she said, "I am excited not only to carry on Grandpappy's legacy, but also to start my own as well and hopefully blossom into the leader and person that I hope to be."
No big surprise that her majors are, in her case, Taylor-made: Public History and Political Science.
"I chose these majors because I hope to become a museum curator in the future and also plan on running for political office," Clifton said. "I have worked at the National Underground Railroad Freedom Center Museum for almost four years now and have fallen in love with the activist outreach that museums can have. Much like my great grandfather, I love history and have a passion for sharing it. My Grandpappy was a historian himself, and even wrote a novel about a soldier during the Civil War. ("Reluctant Rebel: The Secret Diary of Robert Patrick, 1861–1865, was published in 1959.)
"In 10 years I hope to be working at a Smithsonian museum in Washington, D.C., and have my master's degree in museum sciences," she said. "If not a Smithsonian museum, I would love to find a larger regional museum in any part of the country that needs help and a young and energetic addition to its team."
The history of her great-grandfather is one subject she should be much more familiar with by the time she graduates.
"What I remember about my great grandfather…was he was always witty and generous, and loved animals," Clifton said. "He would always tell me about all of the dogs he had owned in his past. He had a very respectable presence, and when he was in the room, all of my cousins and siblings and I knew to speak loudly and clearly and look him in the eyes. Grandpappy was one of the smartest people I've ever met, but I wish I would've gotten to spend more time with him, considering I was only 10 when he passed and we lived so far away that I rarely saw him."
Although her Ohio home is 14 hours from Ruston, another important part of Dr. Taylor's legacy lives just six minutes from campus.
"Luckily for me, my great-grandfather's second wife, Lou Taylor, still lives in Ruston," Caroline said. "We recently reconnected for coffee when I was in town for orientation. Lou is a kind, brilliant, and involved woman, and I am so glad my great-grandfather found someone like her before he passed. Lou still generously gives to Tech every year and is an alum herself. I am looking forward to growing closer to her throughout my time in Ruston."
Clifton considered George Washington University in D.C., Ohio State University, and Centre College in Danville, Kentucky, but chose Tech because, "unlike all of these other schools," she said, "there was no major problem with Tech. For example, Ohio State is a great school, but it is so large that it can take a whole week to receive office hours with your professor, and by that time, you are already behind in a class. This was not something that I wanted for the next four years of my life. Also, Tech has the 'home' feeling that I did not feel at any of the other colleges I visited. I felt like I could be myself at Tech."