Working on the Saturn V, George Levert got his shot
NASA astronaut Serena Auñón-Chancellor visits campus Sept. 24 to kick off Louisiana Tech University's 2019-20 New Frontiers in Biomedical Research Series at 6 p.m. in Howard Auditorium. To highlight her visit, we've talked to alumni who have worked in the space program. This is one story from that series.
George Levert admits he was never astronaut material.
"I got into the space program," he said, "chasing a girl."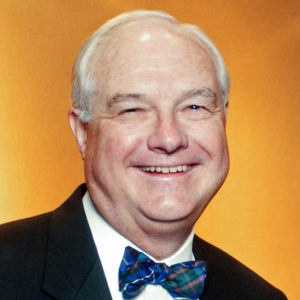 He's retired in Atlanta now, the co-founder of Kinetic Ventures, a former Naval Officer in the Civil Engineering Corps in Vietnam, and before that an electrical engineering student at Tech who, in 1968, got the opportunity of a lifetime: spend the summer interning in his girlfriend's hometown.
"Since she would be at home in New Orleans that summer, I searched for a summer job for engineering majors there," said Levert, who'd graduate in 1969 and join the military. "Boeing was the only company hiring for the summer in New Orleans, so I signed up for an interview, not knowing or caring what the job entailed.
"As fate would have it, we broke up before the summer," he said, "but nonetheless I got to spend a summer living in New Orleans and working on the space program as it neared its historic moment."
It all worked out — for Levert, for his old girlfriend, and for the Americans in the Space Race. He paid close attention this most recent July when America celebrated the 50th anniversary of the success of the Apollo 11 mission when men walked on the moon and returned safely to Earth.
The summer before that launch, Levert was one of two dozen engineering students from across the country working on the Apollo Program, specifically the design and manufacturing of the Saturn V Moon Rocket.
"It was a recruiting program for Boeing, and we had lots of special programs and dinners and trips, and it set the vector for my career," he said. "I was assigned to the group overseeing all the computer systems used to design and build the Saturn V. That experience led to a job in Vietnam managing the computer systems for our command and our construction contracts, which led to a job with Accenture after graduate school at Georgia Tech and eventually to my career in venture capital.
"So my career's destiny was set by chasing a girl I was out of control in love with to New Orleans," he said. "You can't make this stuff up. Only God can."
The girl he was once pinned to married a Neville High in Monroe classmate of his, and Levert married in 1974 "to a beautiful, strong, and talented woman," he said, a fellow Vietnam veteran, a Captain in the Air Force and an AirVac nurse. "We have spent our entire marriage in Atlanta," he said, "and have two sons and two granddaughters."
"When I left the Navy in 1972 I had decided I wanted to study business in graduate school to complement my engineering degree," Levert said. "So I pivoted from engineering to business; NASA was not what I wanted to pursue."
But that summer of 1968 is one he wouldn't trade: thousands of engineers, scientist, technical experts, and support staff working at the Michoud Facility, which had been used for production of material in World War 2. Apartment complexes and businesses were springing up all around to support the thousands of workers and their families.
"It was an incredible assembly of very smart people," Levert said. "It was the most advanced project in America and arguably the most exciting. And the Saturn V rocket, it was so big it boggled the imagination.
"I had worked previous summers as a design engineer and draftsman at (the engineering firm) Ford, Bacon & Davis designing power plants and chemical plants, but this was the program that had captured the imagination of our nation," he said. "So there was an expectation of very high quality work and imaginative solutions to problems. You were elbow to elbow with very smart people and highly motivated to perform."
In the middle of it all was a somewhat heartbroken but very young and very bright college senior-to-be at a University that had helped him find his place in the biggest race of the 1960s.
"I was very prepared that summer; electrical engineering students were very cerebral and competition was brutally tough (at Tech)," he said. "So all those courses in problem solving and math applied to physical phenomenon had built a skill set in me that fully prepared me for any sort of challenge."
America wound up winning its race, and George Levert — veteran, husband, father, granddad, retired engineer and businessman, and the 2018 Distinguished Alumni in Electrical Engineering for Tech's College of Engineering and Science — wound up winning his.