At NASA One Drive, Allen Lee was 'right in the middle of it'
NASA astronaut Serena Auñón-Chancellor visits campus Sept. 24 to kick off Louisiana Tech University's 2019-20 New Frontiers in Biomedical Research Series at 6 p.m. in Howard Auditorium. To highlight her visit, we've talked to alumni who have worked in the space program. This is one story from that series.
When Allen Lee graduated from Louisiana Tech with his degree in mechanical engineering in 1957, the Russians' launch of Sputnik was still months away.
Working for America's space program was as far from his mind as the moon is from Ruston.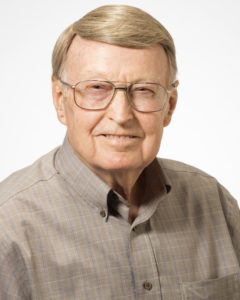 So even Lee found it strange that his address in 1968 was an apartment on NASA One Drive, just off Interstate 45 in Houston and just outside the front gate of the Johnson Space Center. His young daughter could look out her window and see Mission Control.
"She didn't think much of it," said Lee, today 86 and semi-retired in Ruston. "I sort of did."
Turns out that a few years after leaving Tech for mechanical engineering jobs in East Texas, Lee found himself under contract with a company that aided NASA's Apollo 8 through 13 missions. From 1968 until 1970, he had a front row seat for manned travel to the moon.
In 1963 he was in east Texas testing ramjets, working for General Dynamics and helping develop fighter planes. Next thing he knew, "things got to moving pretty quick," he said, and he and his young family suddenly found themselves "right in the middle of it," "it" being America's race with the Russians to the moon.
He came to Tech from his hometown of Magnolia, Arkansas, because "at the time," he said, "Tech was one of the top rated engineering schools in the country. We're still way up there.
"I started working with graduates of Georgia Tech, with A&M Aggies, with engineers from all over," he said. "I never looked back; I felt very confident with my education."
There he was, a young engineering working in a fenced-off complex in East Texas, testing ramjets just to see if these rockets would hang together under extreme conditions, working with fuel flow and combustion efficiency and sometimes causing enough racket to "rattle saucers 27 miles away in Mt. Pleasant," he said. "People wondered what was going on in there I guess; everything we did was classified."
After working to develop the F-1 fighter jet, he joined a lot of other engineers and moved to the Michoud Assembly Facility in New Orleans to develop the Saturn 1B, precursor to the Saturn V rocket that would eventually launch manned spacecraft to the moon.
"We were on the Intracoastal Waterway," Lee said. "There was a fleet of cargo vessels they'd use to load (the rockets) at the plant and send them down to Florida (to the space station at Cape Canaveral)."
He made a quick stop in Austin — "working with radar and stuff to fool the enemy, deception…" — before settling in with NASA in Houston for a couple of years and troubleshooting those Apollo flights. Cape Canaveral would phone with problems, Lee and other engineers would test and fix, then test and fix some more.
In each apartment was a "squawk box," a speaker that could be turned on so families could listen to Mission Control's conversations with the crew during the manned moon missions. He was logging books around 9:30 one night when the explosion on one of the oxygen tanks crippled the Apollo 13 spacecraft.
"Ron Howard did an excellent job with the movie," Lee said. "What I heard that night from the squawk box and what I saw on Apollo 13 track each other. Very authentic.
"That was a tough spot," Lee said of the Apollo 13 problem, one solved by ingenuity and determination as the crew was able to return safely to Earth. "It sounded bad that night. But I also thought, 'We've got some pretty sharp people around here.'"
After a few missions, NASA funding was cut and thousands of contracted employees were being let go. Lee saw the writing on the wall. His wife Sue, who grew up in Arcadia, got a teaching job there and Lee ended up in the fabrication business in Shreveport. They've been back in north Louisiana since 1970.
He drives over to Minden and works one day a week now, the engineering manager at Woods Tank, Inc., making sure the big trucks are properly licensed and "road ready."
"Technically and engineering-wise, I'm responsible for engineering calculations that 'fall between the cracks' of complicated engineering software that we use," he said. "When the full-timers run into an engineering calculation that the computer software can't handle, they toss it to me and I grind it out by hand. Works out well."
Old-school engineering. Can't beat it. It's the way the Mercury and Apollo crews operated.
"400,000 is the number I've heard tossed around the most, the number of people who worked to get men to the moon at that time," he said. "So I was one of 400,000. It surprised me on the 50th anniversary (of Apollo 11) this summer; it doesn't really seem that long ago."