Dancing with the stars: Engineering grad takes Tech experience to NASA
Until late in her senior year at Caddo Parish Magnet High in Shreveport, Elizabeth Mitchell Taylor was focused on becoming a professional dancer.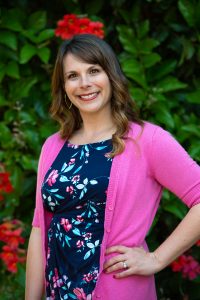 She thought about joining a dance company, even visited colleges that offered intense dance programs.
But late in the game, she decided to keep dance as a hobby only and, since she was good at math and science, pursue engineering.
Which is why today she is working for NASA to develop the software for the space station being designed to orbit the moon.
"It's an exciting challenge to be part of," said Taylor, who completed her BS in industrial engineering in 2001, was named the University's Young Alumnus of the Year in 2009, and was honored as the College of Engineering and Science's Distinguished Alumnus for Industrial Engineering in 2014.
She has "no regrets" now, she said, but it was a couple of years into college before she completely quit wrestling with her dancing shoes.
"Ultimately I pursued industrial engineering because it seemed to have more of a 'people' focus, and helping people has been a core motivation throughout my life," Taylor said. "Industrial engineering has a focus on accomplishing goals as efficiently and effectively as possible, which again has served me well."
She launched her career in the late 1990s as a Tech freshman by being one of 40 students who enrolled in the pilot program of Tech's Integrated Engineering Curriculum. In that group she met her husband Ross — they have Jackson, 11, and Audrey, 9, now — and some of her best friends still today.
"It was a defining experience in my life," she said.
The curriculum was "a major change in the way the engineering education was being taught, and Tech was at the forefront of that across the country," said Dr. Les Guice, then the dean of the College of Engineering and Science and today Tech's president. "This curriculum was focused on integration of math and science with engineering in an experiential learning approach at the freshman level. As opposed to previous curricula, engineering students were exposed to real engineering activities and projects at the freshman level and were expected to develop the teamwork, communications and other skills necessary for success throughout their careers."
Faculty from math and science were collaborating with the engineering faculty to ensure that the topics in those classes were integrated with the engineering principles that were required to use that knowledge. This helped Tech's students understand why the topics they were covering in math and science were important to their engineering problems, and it facilitated learning all of those topics better.
"I've been so proud of the way that our faculty in all of these disciplines have worked together to create unparalleled educational experiences for our students, and that has continued to evolve over the years as the curricula have improved more and more," Guice said.
 "As part of this program, not only was I given an incredible educational foundation," Taylor said, "but also I was given the opportunity to develop key leadership and team skills that helped kick-start my passion for leading people, which has served me very well in many aspects of life."
The latest version of the curriculum is called "Living with the Lab," and it is even more team-based and project-based learning than ever, and enhanced by faculty often. The new Integrated Engineering and Science Building has been designed and built to support the kind of experiential learning that has evolved at Tech over the years, the type of learning that prepared Taylor not only to become an engineer but also to be able to clearly communicate information precisely.
"In mission operations at NASA," Taylor said, "your words have a huge impact on what happens next, and of course, failure is not an option."
Most of the people Taylor works with today grew up with the goal of working for NASA. She didn't. Instead, she'll tell you she "lucked into the opportunity" through the University's career fairs.
"I started as a flight controller for the International Space Station (ISS) as my first job out of college, which was such an incredible honor," Taylor said. "In that role, I helped with the assembly of the ISS. After we reached 'assembly complete' and my family made a move to California, I transitioned to helping researchers utilize the ISS," which ended up being "one of the most fun jobs I've had at NASA."
As a Space Biology Project Manager at NASA's Ames Research Center in Moffett Field, her "fun job" was to help scientists conduct their research in space.
"While NASA has worked hard to create a lab in space that provides the same capabilities as a lab on the ground, working in that lab is very different (than working on Earth)," Taylor said. "The teams I managed help our scientists — biologists in particular — understand those differences so they can appropriately design their experiments. Then the NASA team helps the investigators through the processes required to get their investigation 'flown.' I had the pleasure of overseeing this process from the selection of the science to be conducted to returning the data to the investigator and applying their lessons learned to NASA's needs for exploration."
She transitioned out of that role in July and moved back to Texas, where she'd worked at Johnson Space Center in Houston after graduating from Tech. Now the Taylors are in Austin, Texas "to be closer to family again and have a more reasonable cost of living," she said. Her children are enjoying 'seeing their grandparents, aunts, uncles, and cousins more regularly," she said, and she is enjoying working on NASA's Gateway Project. Gateway is the space station in development for orbiting the moon.
"Now I have the joy of helping NASA and our international partners design the next station that will orbit the moon," Taylor said. "I am constantly humbled and inspired by the work I get to be involved in."