Cast of 'The Addams Family' announced
Louisiana Tech School of Theatre has announced its kooky and creepy cast for The Addams Family, its first production of the 2019-20 season.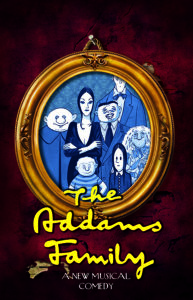 The large and diverse cast of 21 will bring frights, laughs, and sheer delight to audiences at 7:30 p.m. Oct. 22-26 and at 2 p.m. Oct. 27 in Stone Theatre in the University's Howard Center for the Performing Arts. The production is directed by Cherrie Sciro.
Here's the cast:
Jacob Eilers of Covington as Gomez Addams
Madelynn Deason of Ruston as Morticia Addams
Blair O'Blanc of Lake Charles as Wednesday Addams
Grisham Locke of Arcadia as Pugsley Addams
Quinn Cooney of Mandeville as Lucas Beineke
Tony Slapper of Covington as Mal Beineke
Lari Renee Leber of Shreveport as Alice Beineke 
Daniel Townley of Ruston as Fester
Tanner Norred of Choudrant as Lurch 
Joy Rester of Shreveport as Grandma
Briley Cole of Ruston as Little Wednesday
As Ancestors:
Kelsey Meshell of Bossier City
Emma Montgomery of Ruston
Kalyn Cormier of Lafayette
Chloe Alexander of Ruston
Garret Montgomery of Lafayette
Lucas Pretenbach of Houma
Brooke Bell of Baton Rouge
Alison Colwell of Shreveport
Leevi Morris of Slidell
Chase Lenard of West Monroe
Mickayla Blue of Shreveport
Cameron Vidos of Kingwood, Texas
America's favorite freaky family is getting pulled in a new direction in this musical. Gomez and Morticia find themselves at odds when their daughter, Wednesday, meets Lucas and falls in love. The problem is he's a "normal" boy from Ohio, and he and his perfectly "normal" parents have been invited over for dinner to meet the Addams Family.
Will the Addams Family be able to put aside their quirks, or will their differences destroy both families forever? How wrong could one "normal" night go?
Tickets go on sale Oct. 7. Prices are $20 for general admission, $15 for seniors and youth, $5 for students. The Tech Box Office is open from 1:30 to 4:45 p.m. each weekday and one hour before curtain on show days. For more information, call the Box Office at 318.257.3942.