Dr. Bess Haley: 'Louisiana Tech shaped my life'
Dr. Elizabeth G. "Bess" Haley, Louisiana Tech Class of '66, recently retired as the only woman at Texas Tech University to serve as a professor, a college dean, an interim president, and a deputy chancellor for operations; she's had unquestionable success at every level. But her "first Tech" was in Ruston. She came to Louisiana Tech from her hometown of Homer, starred as a student, and became dean of the College of Home Economics at age 31 before leaving for Lubbock in 1981. Here is her love letter to her alma mater. (Oh, she hopes to see you April 23-26 at Louisiana Tech's 125th Anniversary Celebration Weekend.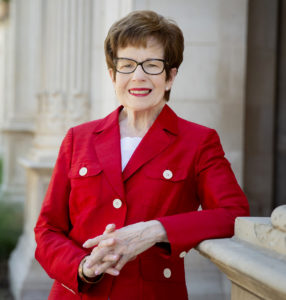 My father, F.C. Haley, hitch-hiked to the Louisiana Tech campus from Jonesboro with a small cardboard suitcase that contained two shirts and one pair of pants. He had only a few dollars, and his father wanted him to work with him on his small dirt farm outside of Jonesboro, 30 miles south of Ruston and Louisiana Tech. My father was determined to get a college education.
He sat on the steps of the administration building until the President came out, and he convinced the President that he had to have a job so he could enroll at Louisiana Tech. He was so convincing that Dad was sent to the cafeteria with instructions to tell the manager that he was to have a job. He waited tables in the dining room and moved up to be monitor of the men's dormitory, a student leader and a successful educator. Dad was a proud graduate and advocate for Louisiana Tech throughout his life.
Because of my dad's determination and because of the University he chose, my life has been blessed in many ways with more opportunities than I ever could have imagined. My older brothers, Dr. Ben P. Haley, and Dr. Robert E. "Bob" Haley, and I grew up in an education-focused home. Our father served as Superintendent of the Claiborne Parish Public Schools and served a term as President of the Louisiana Superintendents Association. Our mother was a teacher, educated in Arkansas, who paused her own career to assure that her children and other youth had the best opportunities possible. She was a talented volunteer and leader in community and church activities. I grew up thinking I was a Cub Scout because our mother was Den Mother for a group of young boys who met at our house. I watched her bicycle with a group of Cub Scouts down College Avenue in Homer which was so steep that some cars had a hard time getting up the hill.
There was no debating where my brothers and I would attend college. We had annually attended Louisiana Tech homecomings and alumni meetings, and we had the same feelings of excitement and reverence as our father for Louisiana Tech. I loved the friendly campus and had attended band camps, literary rallies, Future Homemakers of America District Conferences, and football games there.
In contrast to my father's entry to Louisiana Tech, my parents drove me to Ruston with a car full of what a freshman woman needed. Regardless, I was shaking with excitement and awe about wearing a green freshman beanie and moving into an Aswell Hall room designed to accommodate two, but would house three freshmen women. The closet was a bit crowded for our "Miss Pat" dresses, our hats, loafers, high-heeled shoes and white gloves — all necessities for a freshman girl in 1962. I loved being at Louisiana Tech so much that my father thought I would never come back home for a weekend.
My goal was to be a high school home economics teacher — even though my two older brothers became medical doctors — and Dad thought medicine would be a good choice for me. He finally concluded that I could pursue any major I wanted, but as a young woman, I must graduate with a teaching certificate and complete courses in typing, shorthand and bookkeeping. I was also expected to enroll in an English course with the renown Dr. H. J. Sachs, English Department Chair.
Although I had competed for an academic scholarship, I was not selected; therefore, I was determined to make a 4.0 average during my first semester. I met this goal and convinced the committee that I deserved a scholarship after all. I was active in the Associated Women Students, Home Economics Club, Wesley Foundation, Phi Mu Fraternity, Mortar Board, and other honorary, academic, and leadership organizations during my years at Louisiana Tech. I also worked to pay part of my sorority dues and other expenses.
Dr. Sach's English class was as inspiring as Dad said it would be. He was somewhat intimidating, but the well-known professor was highly intelligent, spoke eloquently without notes on all subjects, and challenged students to think beyond North Louisiana and to expand our comfort zones.  You could hear a pencil drop during his classes.
I was so awed by Dr. Sachs that I thought working in his office would be an amazing experience. I mustered up my self-confidence and boldly asked if I could apply to work in his office. He was surprised and asked if I could type. I confidently said "Yes." He asked me to type something for his review on the electric typewriter in his outer office. I confidently sat down and realized I had never typed on an "electric" typewriter before. When my fingers touched the keys, letters flew across the page producing unintelligible sentences. I almost panicked, but after a few wasted pages, I finally produced a letter.  He was not overly impressed with my typing ability, but since I made an "A" in his class and demonstrated my great desire to have a job with him, he hired me. My proficiency improved, and working for this brilliant scholar was a treasured experience.
After I was selected to serve as the college student representative on the professional Louisiana Home Economics Association Board, my home economics professors insisted that I work within my own college, and I enjoyed grading papers for Miss Ruth Richardson. The Home Economics (Human Ecology) faculty set high standards and worked to assure that students graduated with a strong knowledge base that prepared us for challenging careers. They also cared about their students as individuals. Among our outstanding faculty members in the College of Home Economics were Dr. Agnes Miller (who later became dean), Adelaide Murdock, Miss Willie Fletcher, and others. The subject matter covered also prepared us well to work in many different careers. These professors were demanding, inspiring, and advocates for their students.
At the end of Spring semester, Miss Willie Fletcher, in her late 70s and while sitting cross-legged on the floor, taught child development principles and demonstrated how to use a positive approach in working with children and adults. Miss Willie asked poignant questions such as what I planned to do during the summer. I excitedly told her about my plans to work as a summer leadership camp counselor, to attend a national conference, and to accomplish many other goals. Her reply was, "Well, Bess, when are you ever going to just go sit under a tree?" Bette Wallace, who worked in the dean's office, looked at one of my daily agendas and phrased the same thought in other words: "Bess, remember, even a new, shiny Cadillac that runs full blast all the time will burn up some day!" I am thankful for the advice of these wise women whom I admired. However, I am still looking for my "tree to sit under!"
When I attended Louisiana Tech, professors took time to know their students as individuals of potential and to nourish their minds and souls rather than just teaching facts that will soon be outdated. We also learned the value of the arts, literature, history, and the ability to stretch our minds.
Beyond home economics (now Human Ecology at Louisiana Tech), Dr. Frances Fletcher, distinguished English professor, inspired a love for literature by quoting poems and prose from memory. As she spoke, she looked out the window, and we could see the stars in her eyes and love in her heart as she seemed to transcend into heaven.
Dr. June Dyson, then Dean of Women and later a faculty member in Human Ecology, was an inspiring campus leader. As a fashionable and articulate woman, she assured that women were given opportunities to lead. Particularly valuable were my experiences chairing the residence hall judiciary committee, collecting dues as treasurer of the Phi Mu Fraternity, and serving as an officer of the Associated Women Students. My experiences as the student representative to the Louisiana Home Economics Association Board of Directors provided close friendships with professional leaders in my field and taught me to be bold and to speak with confidence. These Louisiana Tech experiences, and my knowledge of child development principles and human relationships, gave me an understanding of people of all ages and backgrounds, the ability to make difficult decisions, and administrative potential.
I was like a sponge — absorbing new experiences, meeting people, attending concerts and lectures, serving on committees, and staying up late studying. As a college freshman, I concluded that the university campus was where I wanted to spend my life. I made an appointment with Dean Alice Graham to seek her advice regarding how I should prepare for a career in higher education. She wanted me to be selective about where I went to graduate school. She said the university should have an outstanding academic reputation, but it should provide a different cultural experience as well. She encouraged me and told me to plan to secure a PhD. I was confident that I was destined for a career in higher education.
When my father saw me reviewing graduate school catalogs from Cornell, Syracuse, and Iowa State University, he said there was no reason to go so far from home. I asked: "How far was too far?" He thought I could find a good graduate university within the Southeast United States. I applied for assistantships at several major universities in the Southeast because I wanted to pay my own way. Florida State University, where I worked long hours and was paid $150.00 per month in addition to a waiver of certain fees, became my destiny.
I secured a master's in textile science, but I also completed courses in child development and decided I was better suited to working with people than in a chemistry lab. My plan was to continue toward the PhD upon completion of my master's, but a personal tragedy made it necessary to return to Louisiana and secure a full-time teaching position. The timing was poor for securing the perfect position, but just a few days before school started, I was offered a position to teach at Northwestern State University in Louisiana; therefore, I packed my car and headed for Natchitoches, where I did not know anyone.
My one-year appointment for the 1968-69 school year was somewhat out of my field. Although I had a bachelor's degree in home economics education, my graduate education was very different. The Dean of Education said his wife was a home economics graduate, and he considered graduates in our field to be creative people. He needed me to teach five sections of "The History and Philosophy of Education," a required course that had received poor student ratings. He asked me to develop an exciting introductory education course that would attract students. He also wanted me to be the advisor for the student professional education organization. From all reports, the membership and meeting attendance had been miserable.
All this was challenging, but I taught using cartoon characters to keep the classes interesting, and I encouraged students to join the professional organization by providing refreshments and arranging outstanding professional speakers. I spent most of my waking hours working on my classes and the student organization. My class evaluations were noteworthy, and the student organization thrived. My faculty colleagues were supportive, and I made friends and enjoyed the city's unique culture.
I was excited to be offered a position for the upcoming year in the home economics department with a very different but equally demanding course load; however, I felt I had proved my teaching ability. Shortly after accepting the position, I was called to meet with the department chair and given some sad news. Due to a misunderstanding, my position had previously been offered to someone else. I left her office feeling devastated; how could this have happened after I had worked so hard?
It was a dreary day when I went to my apartment, shed a few tears, and laid down on the living room sofa to contemplate what I should do. The phone rang, and Dean Alice Graham from Louisiana Tech asked me if I had accepted a job for the next year. I told her that the position I had accepted had just been withdrawn. I expected expressions of sympathy, but instead, she became joyful. She invited me to come to Ruston to visit about a position that would be perfect for me. I could not believe my ears. I walked outside, and a rainbow stretched across the sky.
I believe in miracles.
The Louisiana Tech position was in my preferred field of human development and family studies, and I would be director of the Child Development Center. I traveled to Ruston with great excitement for the interview and was offered the position. I asked if I could secure a leave without pay after a year to complete my PhD in Child Development at Florida State University. Doctoral faculty in our field were scarce; therefore, Dean Graham thought this would be ideal for everyone. A year later, the previous university asked me to apply to serve as Department Chair, but I declined. 
Instead, I was the youngest faculty member in the Louisiana Tech College of Home Economics, but the faculty who taught me as a student just three years earlier accepted me as a peer. They welcomed me, treated me with the utmost respect, and asked my opinions on significant issues. I felt like I had gone to heaven.
I loved teaching at Louisiana Tech and felt I had the best of all worlds. I taught college students, advised students, and worked with preschool parents and children at the Child Development Center. I thrived again at my alma mater. My brother Ben and his family lived in Ruston, and my parents later moved to Ruston when my father retired. What more could anyone ask for? 
After a year, I was granted the leave without pay at Louisiana Tech and a graduate assistantship at Florida State University. I had already taken some courses toward my PhD, so I returned to Tallahassee and immersed myself in my doctoral work with excitement for my profession and a commitment to return to my beloved alma mater as soon as I could complete the PhD. My major professor and department chair facilitated my passion with high standards and expectations. They interrupted my constant study with an occasional invitation to dinner or to a boat ride with a couple of other students. Colleague doctoral student included an administrator from the Texas Agricultural Extension Service who was referred to as the "Blue Bonnet Queen" by our colleagues from other states. My Texan friends demonstrated an impressive loyalty to their home state and/or to Texas Tech University where many were Assistant Professors or Instructors.  
Upon completion of my doctorate, I was pleased to return to Louisiana Tech where I thrived. Dr. Miller, who also completed a PhD at Florida State, became dean when Dean Graham retired. After a couple of years, she asked me to serve as Associate Dean, where I assisted with advising and recruiting students in addition to teaching. Dean Miller was an outstanding leader who was well respected. She was an outstanding administrator and an excellent role model. She retired earlier than expected, and I was asked to serve as Acting Dean.
Dedicated faculty members such as Dr. Jeanne Mack Gilley, Mrs. Mary Belle Tuten, Dr. Shirley Reagan, Dr. Linda Sivils, Dr. Nancy Tolman, Dr. June Dyson, and others made a dynamic team. I was surprised at how accepting the faculty were of me as a young administrator. They worked very hard, and our enrollment grew. Faculty members were innovative and willing to apply for grants and teach graduate courses in Bossier City and other locations. Dr. Jeanne Gilley, who later followed me as dean, and I applied for and were allocated state grants to train childcare workers and served on campus, state, and national committees.  We collaborated to challenge and to entertain the childcare employees so they would utilize the principles of child development. We enjoyed collaborating. The nutrition faculty developed the accredited Coordinated Undergraduate Program in Dietetics, internships for diverse majors, and participated in the Louisiana Tech Rome Campus Program. After nine months as Acting Dean, I was asked to become Dean. I was pleased to work closely with Dr. Virgil Orr, Vice president for Academic Affairs, who believed in our college and was helpful in providing needed support.
It was quite an honor to serve as dean at Louisiana Tech and to follow Dean Graham and Dean Miller. Another person who was of tremendous importance to all of us deans and to those who followed was Mrs. Bette Wallace, Assistant to the Dean. Bette served in this capacity when I was a student. As a graduate of the program, she knew many of the alumni, had friends all over the campus, and knew how to get things done. She was our right-hand woman. She always assured that we followed all operating policies, kept tight control over the budget, and met all deadlines. She could gather data and draft letters and reports beautifully. Everyone loved and valued Bette Wallace. Since I officially became dean at the age of 31, I looked rather young for the role. When parents brought their children to the dean's office to discuss enrolling at Louisiana Tech, they often assumed my assistant was the dean and began addressing questions to Mrs. Wallace. She would step back immediately and say, "I think you need to talk to Dean Haley," as she directed them to me. Their expressions as they looked at me were priceless.
As enrollment increased, we outgrew our offices and classrooms; therefore, I requested more space from Vice President Orr, who became a mentor for the remainder of my career in higher education. He was dignified, friendly, and astute in knowing significant statistics and talking points on almost any subject. He had a sense of humor and made people feel welcome and satisfied even when he had to deny our many requests. He was fair and always willing to listen.
Since we were in dire need for classrooms, we noticed that an adjoining area of the building did not seem to be well utilized. We were able to secure a building floor plan, and Mary Belle Tuten and I began to subdivide the area into what we could do if we had that space and could renovate our assigned areas. We had two or more people in offices designed for one person, and some faculty only had a desk in a classroom. We worked on our plan and developed a proposal for the Vice President for Academic Affairs. I think he was impressed with our initiative in trying to take better care of our students and faculty members. We were not architects or designers, but the facility people liked the plan, and construction began.
We sympathized with the people who lost space, and the next challenge was to determine where to place our faculty, staff, and students during the renovation. Mary Belle Tuten developed an ingenious plan that only she could present in a positive, cheerful manner so that everyone agreed to their relocation assignments during the renovation. The most interesting proposal was Dr. Nancy Tolman's choice of setting up her office either in the women's restroom or in the custodian's closet with the understanding that Mary Belle would help her set it up with a screen for privacy. Nancy was quite surprised, but she smiled and picked the women's restroom. Now, where can you find faculty members like these?
When I arrived at Texas Tech University years later and told a few faculty members that some needed to move offices to accommodate new programs, the faculty members were irate — especially if it meant leaving an office that had a window for one with no view. I quickly learned that university space is a very political issue. For years thereafter, when the Associate Dean and I walked the hallways with a yard stick and a tablet, everyone got nervous.
As a happy dean for our long-respected Louisiana Tech College of Home Economics with outstanding alumni, faculty and students, I never planned to leave my alma mater. I received invitations to apply for deanships at larger universities, but I always wrote back that I was happy and still had goals to accomplish. I was active in several national organizations, and as the youngest dean in most administrative groups, I found that more seasoned, well-respected deans were willing to share knowledge and experiences with me. Deans from Cornell, the University of Minnesota, Virginia Tech, the University of Georgia, the University of Tennessee and others shared their successes, and they nominated me to serve on boards. I was fortunate to make such wonderful friends.
I also met national leaders through the American Home Economics Association (now the American Association of Family and Consumer Sciences). At a national meeting of Administrators of State Universities and Land Grant Institutions, a dean from a major land grant university pulled me aside and asked why I had not applied for her position when her retirement was announced. I shared my standard response, and she said, "You cannot stay there forever, you have a responsibility to move to a larger program!" The dominating nature of her voice was somewhat startling. Her admonishment must have made a difference, for shortly after that I received an invitation to apply for a deanship at Texas Tech University. My family was gathering for Christmas Dinner, so I decided to take it with me. I just knew that my parents and brothers would say, "You do not need to move to West Texas!" To my surprise, each one independently said, "Perhaps you should check it out." Perhaps they thought that by checking out new opportunities, I would return even more committed to stay at Louisiana Tech.
Texas Tech University already had a PhD program in each of their departments within the College of Home Economics (now Human Sciences), and they had a beautiful six-story addition to their facilities. I decided to submit credentials as a learning experience that would benefit Louisiana Tech. TTU asked me to come for a visit. An outstanding leader of the Home Economists in Business from Fort Worth who heard me speak at a national meeting called to encourage me to seriously consider Texas Tech. She had met Dr.  Lauro Cavazos, the new President at Texas Tech, and they thought the university and the college had tremendous potential. I agreed to "take a look".
During my first visit, President Cavazos and the Red Raiders captured my imagination and my heart, and before I knew it, I felt it was my destiny to move to West Texas in 1981, and the rest is history. Although I hated to leave my Louisiana family and friends, Texas Tech University offered me tremendous opportunities and challenges. I feel very fortunate that Louisiana Tech and Texas Tech provided me with such vibrant opportunities for growth, and I am indebted to so many who placed their trust in me at each institution. 
At Texas Tech, I served as Dean of the College of Human Sciences, President and Chief Executive officer for both Texas Tech University and Texas Tech University Health Sciences Center, and Deputy Chancellor for Chancellor John T. Montford. When a new Chancellor was appointed, I returned to teach Child Development in the College of Human Sciences, but the new dean asked me to also serve as development officer; therefore, I worked in both capacities for a year. Then, I was asked to become Associate Vice Chancellor in the Office of Institutional Advancement. My focus was on working with deans and development officers to raise funds for academic programs, cultivating large gifts and cultivating contributions for the Chancellor's priorities.  
My fundraising skills were developed out of necessity when I was dean. As I drove to Lubbock to become Dean, President Cavazos announced that all deans had been given the task of serving as major development officers; therefore, a list of major fundraising goals and a plan of accomplishing them was required within a few days. This was a surprise and not a duty on the job description. I met with prominent alumni and faculty to quickly develop a plan. 
The deans of Business and Engineering had already developed active fundraising programs; therefore, they were generous in sharing their ideas. Mrs. Jean Mclaughlin Kahle, a graduate of Home Economics, was honored by the Texas Tech Alumni Association as a Distinguished alumna of TTU. She agreed to chair our first TTU College of Home Economics Dean's Advisory Council, composed of alumni from across Texas and outstanding West Texas business leaders. I told a small group of alumni that I had discovered that the College had no money for recruiting or to even serve cookies and punch to prospective students. I told them I felt like I had been thrown into a fierce baseball game without necessary equipment or players on the bench. I think they could tell that I was almost in despair.
We wrote a letter to send to all college alumni that Jean Kahle signed. It must have been one of my best letters, for it generated about $80,000. I attended a national workshop on fundraising for deans and participated in professional development sessions. The key to fundraising is to have passion for the projects you are pursuing. It is also helpful to demonstrate that you give as well. You must deeply value donor prospects and contributors and develop genuine relationships, express appreciation for gifts in as many ways as you can contemplate. Most of all, I think fundraising is a calling — not a job. It is not easy, takes time, and giving should be fun for the fundraiser and the donor.
I was asked about my loyalty when the Bulldogs played Texas Tech's Red Raiders in football in Lubbock a few years ago. It was a time of ambivalence. I intended to invite a Louisiana Tech delegation to my home, but I needed to entertain TTU donors in the TTU System Chancellor's Suite for the game; therefore, I dressed in red and black and headed to the stadium. I wanted both universities to perform well, but even at Louisiana Tech, I learned that one must loyally support one's employer, and my years at Texas Tech University have provided me with many opportunities of a lifetime. 
After 38 years, I retired a second time from Texas Tech University on May 31, 2019 with much gratitude for a career that provided opportunities for growth and development in a stimulating, challenging, and rewarding university life. I had to quickly learn new skills throughout my career. In reflection, I am also grateful to my family, including my husband of 19 years, Glenn M. Jones, M.D., for supporting my endeavors; to Louisiana Tech University for a rigorous academic environment that provided abundant opportunities for leadership development in a stimulating academic environment; and to faculty members who were inspirational and demanding. I received an excellent education, graduated from Louisiana Tech in 1966 and believed that I could compete with graduates from other fields and institutions. My background in home economics provided experiences in management, creativity, human relations, and sound principles that offered flexibility for numerous careers.  
My life of retirement is not too different than it was as an employee. I will continue to work as a volunteer to support the university and my community. I currently serve as Vice Chair of the Board of Directors for Carillon Senior Living Community, a not-for-profit with a campus adjoining Texas Tech that provides outstanding independent living, assisted living, skilled care, memory care, and accelerated rehab for 400 residents. I will serve on the Dean's National Council of Advisors for the TTU J.T. & Margaret Talkington College of Visual & Performing Arts, the Board of Directors for Lubbock Arts Alliance, a founding member of ARTS Lubbock, and as a church member. I have enrolled in an Arts History Lecture Series and plan to take art lessons and a computer workshop. I am enrolled in Physical Therapy and plan to enjoy my friends and family and visit Louisiana Tech more than my schedule has allowed in the past. In retirement, cheering for Louisiana Tech, Florida State, and Texas Tech will be a pastime. I also plan to follow Miss Willie Fletcher's advice and look for "a tree to sit under." 
An article posted on the Texas Tech website when I retired for the second time on May 31, 2019 called me a trailblazer. It was not a title that I selected. Therefore, when Louisiana Tech asked me about it, I made a google search which took me to a NASA website that described trailblazers as "pioneers considered a first in their field. As leaders, they point the way, take the risks, and change the environment. They have a vision for a different future, a faith that turns their dreams into reality, and a determination that cuts through barriers and obstacles."
Texas Tech University honored me with a story on the opening page of their website that called me a Trailblazer; however, if I qualify for the title, Louisiana Tech University deserves a lot of credit for stretching my potential, broadening my horizons, and inspiring a "can do" confidence that provides Tech graduates with the confidence to take on new challenges. Indeed, Louisiana Tech is a trailblazer University that is stretching its boundaries every year. Many trailblazers have graduated from Louisiana Tech since it was founded with vision and led by outstanding Presidents such as Dr. R. L. Ropp, Dr. F. Jay Taylor, Dr. Dan Reneau, and Dr. Les Guice, and many dedicated faculty and staff members. I read the Louisiana Tech Magazine Celebration Issue with tremendous pride. "The Bulldogs are trailblazers" and have a marquee of achievements ranking our University as the "Best University in Louisiana" and among the top schools in the U.S. on many measures, including research.
I hope to see many longtime friends and new Bulldogs that I have not had an opportunity to meet when I return to the Louisiana Tech campus this spring for 125th Anniversary Celebration Weekend on April 23-26, 2020. I hope you will meet me on the campus that shaped our lives. I want to share the 125th anniversary with you and hear your stories. I encourage all Bulldogs to determine what we can do to assure that our fabulous alma mater continues to shape the lives of students. Louisiana Tech has a bounty of achievements and highly successful graduates, but with our enthusiasm and support it can blaze to even greater heights.