School of Design keeps building winners
Louisiana Tech's third-year architecture students keep building not only structures but also encouragement, hope, progress, and an optimistic future for MedCamps, a north Louisiana camp for children with special needs.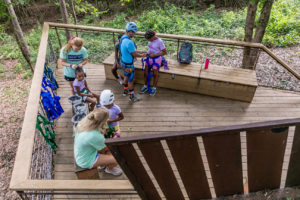 The ARCH 335 Tech Design team, instructed by Tech faculty Robert Brooks and Brad Deal, was recently recognized at the American Institute of Architects (AIA) 2019 Louisiana Design Awards with another Member's Choice award for its Peregrine Zip Line and Tree House at MedCamps.
The Member's Choice award is the organization's highest annual award; the ARCH 335 Team also won it in 2018 and 2016.
"It is our hope that the aspirations and transformative work of MedCamps is being matched by the aspirations and transformative work of our students and faculty through the design and construction of these projects," said Karl Puljak, Director of Tech's School of Design Department. "It is rewarding to know that these efforts and hard work are recognized and valued by our peers in the architectural profession."
In 2014, the ARCH 335 Studio began a partnership with MedCamps of Louisiana, a non-profit organization that provides free summer camp experiences for children with chronic illnesses and disabilities. The camp's mission involves providing transformative and empowering experiences for its patrons, which, conveniently, is a shared goal of most great architecture.
"I believe our design/build program embodies the belief that education outside of the traditional classroom is not only worthwhile, but also inwardly meaningful and outwardly powerful, and that design can represent that which we aspire to as a compassionate and hopeful part of the next generation of architects," Brooks said.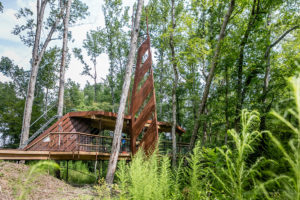 The AIA's program statement about the Peregrine Zip Line and Tree House reads like this:
"This 712-foot zip line and support structures at a camp for children with special needs encourages participants to embrace the thrilling experience of flight. At the 'launch,' dramatic steel walls gesture skyward, visually obscuring and revealing the zip-line. The varied deck facilitates safe loading, and a pivoting swing-arm allows wheelchair bound campers to be hoisted up, swiveled into position, and transferred onto the zip line. Riders unload at the 'tree house,' which extends horizontally as the land falls away. Campers then find themselves on an elevated perch overlooking a stream where they can observe a multitude of flora and fauna. A floor hatch provides access to the ground below, reinforcing the feeling of 'tree house.' A 50-foot-tall steel tower signifies flight and offers an accessible ropes course challenge. The brave are rewarded with a dramatic view of the horizon from the treetops."
The students' project competed against professional architects and companies; the 2019 design awards were given at the Awards Luncheon at the AIA LA '19 Conference on Architecture in Baton Rouge after a nationally recognized panel of judges selected the 11 winning projects from 69 entries in seven categories, submitted by architects across the state.
"Recognition from beyond the typical academic arenas is always a treat," Deal said. "It really helps to justify the colossal effort, sacrifice and trust from everyone that comes together to make these projects possible, but of course, the awards aren't the goal. We've found we're most successful when our true aim is even more fundamental than trying to teach design or construction knowledge and experience — although we certainly cover those requirements along the way.
"Instead," he said, "we've developed the design/build studio with the aim of teaching our students to approach their work, whatever it may be, with passion and purpose. We reward positive attitudes, sustained efforts, and genuine heartfelt teamwork. We try to impart, through all five senses, that design has to transcend the goal of simply looking good to really focus on doing good. It's a lesson that doesn't sink in until you get up from the computer and get out of the classroom. We look forward to continuing the work."
That attitude is paying off; these "little projects out in the woods" have won several awards since 2016. Here's a list of projects and awards:
Stroud Store and Bell Tower (2019)
Peregrine Zip Line and Tree House (2018)

AIA Louisiana Members Choice Award, 2019

Pisces Bridge (2017)

AIA Louisiana Honor Award, 2018
AIA Louisiana Members Choice Award, 2018

Hero's Launch (2016)

AIA Gulf States, Merit Award, 2017

Chiasmus Archery Range and Paintball Pavilion (2015)
Larkin Gibbs Pavilion (2014)

AIA Gulf States, Merit Award, 2017
AIA Louisiana Merit Award, 2016
AIA Louisiana Members Choice Award, 2016

Robert Brooks and Brad Deal

ACSA Collaborative Practice Award, 2017 

Brad Deal

"Pisces," Runner Up, AIA Film Challenge, 2017
"Rebuilding MedCamps," Grand Prize, AIA Film Challenge, 2016
"Rebuilding MedCamps," People's Choice Award, AIA Film Challenge, 2016
Here is the final AIA program statement about this year's Members Choice winner:
"The project is inspired by a parable in which two peregrine falcons are gifted to a king who admired the birds for their speed, power and grace. One of the falcons, however, simply would not fly. After many unsuccessful attempts by experts to remedy this, the king was visited by a peasant who claimed she could get the falcon to fly. Upon seeing the second falcon high in the air, the king implored 'How?!'
"'Simply by cutting the branch the bird was resting on. Some souls,' she said, 'need to be reminded they have wings.'"