FastTrac Program for entrepreneurs begins Oct. 17
Are you an aspiring entrepreneur or founder with big plans and ideas but are not quite sure how to turn them into a reality?
Then here's some good news.
Beginning Thursday, Oct. 17, The Innovation Enterprise at Louisiana Tech will offer a weekly workshop that caters to new entrepreneurs and aspiring business owners. The program, Kauffman FastTrac, is an established curriculum that offers teachings through a combination of classroom instruction, group discussion, experienced entrepreneur mentorship, online exercises, and independent work focused solely on strengthening your own venture.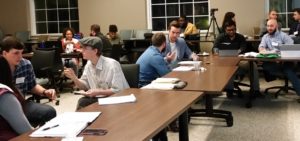 The workshop will be held at the Rawle Enterprise Center at 509 West Alabama Avenue in Ruston every Thursday at 5:30 p.m. through January.
There are no fees to attend, but you must register beforehand by visiting FastTrac.org, emailing tbdc@latech.edu, or calling 318.257.3537.
The course is possible through the Kauffman Foundation founded by the late Ewing Marion Kauffman, an entrepreneur and humanitarian whose innovative and long-lasting contributions have benefited millions of people in his hometown of Kansas City and beyond.
The purpose of this program is to help new entrepreneurs learn more about venture creation, work on the development of their enterprise, identify and access resources and eventually prepare them to launch their operations. FastTrac allows aspiring entrepreneurs and founders to work closely alongside a group of their supportive and equally determined peers, all while enhancing their own project.
From FastTrac, participants will gain the information necessary to successfully progress into the next step of their venture. Over the course of the workshops, participants will learn how to transition from idea to action, identify potential partners, prepare an investor pitch, and much more. It is a perfect opportunity to make connections with people who may prove to be a beneficial contact in the future.
Participants will learn how to make an effective and compelling presentation for potential investors. They will also be given the opportunity to practice their pitch before their peers and mentors while receiving valuable advice and feedback.
For more information, visit FastTrac.org, email tbdc@latech.edu or call 318.257.3537.