Tech hosts team-building STEM event for high school students, teachers
More than 200 high school students and teachers from across the region got hands-on experience in robotics and circuitry at Louisiana Tech University's STEM-Discovery Ruston Competition.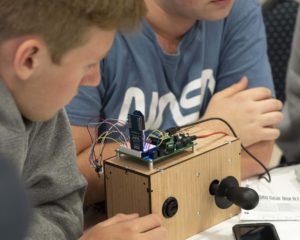 At the competition, 23 area schools formed teams that used science, technology, engineering, and math (STEM) skills to build robotic cars and controllers. The teachers guided their student teams as they applied modeling, programming, and circuitry they learned at the event. Students then maneuvered their finished prototypes using the controllers they assembled and wired.
As teams engineered solutions to problems they encountered during the project, they learned to communicate with one another to develop camaraderie and solutions and gained valuable experience learning to approach both STEM problems and problems in general.
"For my students, the most important thing is approaching a challenge they haven't seen before and figuring out how to approach that," Zach White, engineering, design and geometry teacher at Ruston High School, said of the event. "The STEM-Discovery event gives them a good opportunity to learn something new: circuitry and programming."
"I love for my kids to get hands-on experience with things they haven't been taught yet," Amanda Lawrence, chemistry and physics teacher at Caddo Magnet High School, added.
"Through events like this, we're teaching them to jump in and solve problems they encounter as they encounter them using skills they develop during the problem-solving process. They don't get enough of that in class."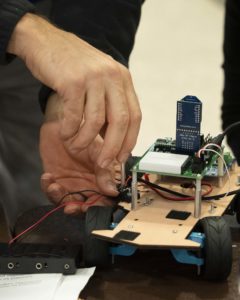 "I like the teamwork that they are learning," Letha Stahl, biology and robotics teacher at North Caddo High School, said. "It's been fun watching them work together to solve problems. They're learning to work with people they wouldn't interact with during class projects."
STEM-Discovery, funded by the National Science Foundation, is designed to provide students with experience in six categories: design, business, engineering, robotics, competition and teamwork.
"Historically, STEM-Discovery has been a series of weekend workshops, but the one-day-build approach allows more students to participate," Dr. Heath Tims, associate dean for undergraduate studies at Louisiana Tech's College of Engineering and Science and principal investigator on the grant that supports the STEM-Discovery events, said. "It is great to have so many students come to the campus and be a part of this STEM project."
"The College of Engineering and Science has been focused on STEM outreach for many years, and it is important because of the need for these type of majors across the country. We additionally view this as a great recruiting opportunity for Louisiana Tech, as we want to be able to attract these high-quality students to our College."