Waggonner Center to present Chief Security Officer of Homeland Security Nov. 8
The Waggonner Center for Civic Engagement and Public Policy will sponsor a presentation by Richard McComb, Chief Security Officer (CSO) for the U.S. Department of Homeland Security since the spring of 2016, at 2 p.m. Friday, Nov. 8 in University Hall Auditorium, Room 134.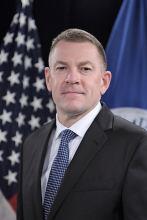 McComb's address is titled "The Fox in the Henhouse: The Risk of Insider Threats and What to Do About It."
The event is free, and members of the campus and local community are invited to attend. An audience Q-and-A session will follow the presentation.
In his role as CSO, McComb is responsible for security-related programs affecting the more than 240,000 DHS employees that make up the Department. Designated as the Senior Agency Official by the DHS Secretary, McComb has oversight authorities over all DHS security programs, including those undertaken at all DHS Components. He exercises department-wide security program authorities in the areas of personnel security, physical security, investigations, administrative security, insider threats, identity management, special access programs, and security training and awareness. As Chair of the CSO Council, McComb partners with all his counterparts in the DHS Components to lead a highly collaborative and uniquely decentralized security program designed to safeguard the Department's people, property, and information.
Prior to coming to DHS, McComb served as the Director, Leased Facilities Protection Directorate, Pentagon Force Protection Agency, where he exercised overall responsibility for force protection, security, law enforcement, and emergency management functions for 64 Department of Defense (DoD) leased facilities within the National Capital Region housing over 22,000 DoD employees.  Additionally, Mr. McComb served over 27 years in the United States Air Force as a Security Forces Officer from which he retired in 2015 at the rank of Colonel. During this time, McComb held a variety of positions of increasing responsibility, including key security and law enforcement staff duty in the Office of the Secretary of Defense and Headquarters Air Force, where he served as the Associate Director of Security Forces. He has served as the Chief Security Officer four times at the installation level and once at the Major Command level. McComb also served as the Installation Commander of Joint Base Charleston, S.C, one of only 12 DoD joint bases providing full-service installation support for military airlift and sealift operations, 53 multi-service organizations, and a base population of more than 40,000 people. 
McComb holds a BS from Columbus State University, an MA in Administrative Management with a public sector concentration from the University of Maryland University College, as well as a Master of Military Operational Art and Science from Air University, and an MS in National Security Strategy from the National Defense University. He is also a graduate of the Federal Bureau of Investigations National Academy.
The Waggonner Center will present Bob Mann, who holds the Douglas Manship Chair of Journalism at LSU in Baton Rouge and is a 2014 inductee into the Louisiana Political Hall of Fame in Winnfield, on Monday, December 16; the time and place is to be determined.
The Waggonner Center is housed in the College of Liberal Arts at Louisiana Tech. Its mission is to foster citizenship, bipartisan understanding, effective public policy and civic leadership among students, and engaging the public at large. The Center also seeks to promote active and responsible civic engagement through an interdisciplinary combination of innovative curricular initiatives, academic outreach, and community outreach.
For more information on the Waggonner Center for Civic Engagement and Public Policy, visit www.waggonnercenter.org