'Lend me A Tenor' auditions set Wednesday, Dec. 11
Auditions for the Louisiana Tech School of Theatre's production of the revised 25th Anniversary Edition of Ken Ludwig's comedy, Lend Me A Tenor, are open to the public and are at 6 p.m. Dec. 11, in Stone Theatre. Callbacks will be at 6 p.m. Dec. 12.
Performances for Lend Me A Tenor will be at 7:30 p.m. Jan. 28 through Feb. 1 and at 2 p.m. Feb. 2. Virginia Hirsch will direct.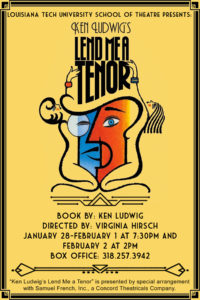 For auditions, prepare a 30-60 second contemporary comedic monologue. Please also be prepared to sing the nursery rhyme "Frere Jacques" or the English version, "Brother John." The singing portion of the audition will be a cappella and should be done in your most dramatic, silliest, and grandest operatic voice. If you need a monologue or don't know where to look for one, email virginia.hirsch1@gmail.com or go to Room 202 on the theater side of Howard Center, and one will be given to you.
Headshots and resumes are preferred but not required. Business/semi-formal attire is also preferred. Please arrive a little early to the audition to be assigned an audition time slot.
For more information regarding auditions, contact the Coordinator of Theatre's Office, 318.257.2930.
The play's story:
On the most important night of the Cleveland Grand Opera, world-renowned Italian tenor Tito Merelli is booked to star in the role of the clown, Pagliaccio. Through a desperate combination of heartbreak and honest mistakes, Tito is unable to perform. Moments before the show, the General Manager volunteers his not-quite "star material" assistant, Max, to take over for Tito. Max is to perform as Tito Merelli and not tell a soul who he really is. In this bawdy comical explosion of mistaken identities, hiding in closets, love, pleasure, and a bellhop who just wants his big break, the night is sure to be filled with laughs and even a few screams. After all, the show must go on!
Lend Me A Tenor includes adult content which may be unsuitable for young children.
For more information on the Louisiana Tech School of Theatre, visit louisianatechtheatre.com, like facebook.com/louisianatechtheatredept, or follow on Twitter and Instagram: @techtheatredept