Doug and Sandra Boulware make major investment in Tech's future
As an offensive guard on Louisiana Tech's Southland Conference and Independence Bowl championship team in 1977, Doug Boulware made a positive difference on the field. But more recently, his contribution off the field will make an even bigger long-term difference for the students, dedicated faculty, and visionary leaders of both the College of Education (COE) and the Athletics Department.
Boulware, the 2018 COE Distinguished Alumnus, and his wife Sandra have made a major investment — a $500,000 gift to the COE and a $250,000 commitment to a future Athletics capital project — that will pay dividends for decades to come.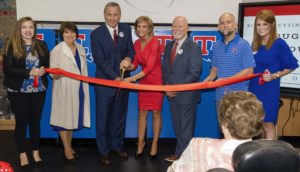 The Boulwares' gift will fund renovation of the IDEA Place in Woodard Hall and turn it into a state-of-the-art STEM education showcase space and learning center for both A.E. Phillips Lab School and the College of Education, an improvement that will aid both AEP students and the College's STEM education program. The updated area means space and materials for enhanced professional development opportunities, robotics competitions, and other outreach activities.
The gift to Athletics will benefit all of the more than 300 student-athletes and will assist coaches with recruiting top talent to all Tech's athletic programs. The Boulwares' generous donation is the largest commitment, to date, for this future capital project.
"Doug and Sandra are pleased to support initiatives of both the College of Education and Athletics Department that will truly advance the priorities of the leadership of both areas," Emily Kabbes, Director of Development for the College of Education, said. "They want to invest where it is needed the most and will go the farthest to support the University's mission."
Married for 37 years, the Boulwares have three grown children — Steven, 35, Clay, 32, and Katie, 30 — and two grandsons. Sandra is a retired teacher and librarian. Doug is a double graduate of COE with a BS in Kinesiology/Health and Physical Education ('80) and an MA in Industrial-Organizational Psychology ('93). He taught and coached at Airline High in Bossier City and worked in sales and then in nursing home administration before becoming the founder and CEO of Priority Management Services, which since 2005 has owned and operated numerous skilled nursing facilities and hospitals in Louisiana and Texas.
"Being a student-athlete was and still is the most difficult thing I've ever done," he said. "Football was on my mind every second, and most professors didn't work their schedules around ours, so three or four finals in one week was normal, not to mention the homework."
Retired football defensive backs coach E.J. Lewis, who was on the staff when Boulware played, set up a lunch between his former player and Tech President Dr. Les Guice about six years ago.
"I'd reached a point in my life where my kids were educated and on their own, and I wanted to repay Tech for giving me a scholarship to play football," said Boulware, a Woodlawn High of Shreveport graduate. "Once I got to campus in 1976, I felt like Tech was interested in seeing that I got my degree. I'm the youngest of four children whose dad was a carpenter and whose mom was a secretary at an insurance company. I'm the first college graduate in my family, and I would not have been able to attend without a scholarship.
"When I talk about the University, I like to tell people — and it's the honest truth — that If it weren't for the football team I would not have come to Tech, but if it weren't for the College of Education I would not have graduated." 
The family began giving to the school four years ago after Doug met with Kabbes, COE Dean Dr. Don Schillinger, and Senior Associate Athletics Director of External Affairs Paul Kabbes.
"They started sharing with me their visions for both the College and the Athletic Department," Boulware said. "Once I got Sandra involved, giving was easy; she's the most giving person I know. She didn't attend Tech, but she understands my loyalty to the institution and to the people who've helped me get where I am today. We never imagined we would be in the position to help the school like we have, so we are very grateful for what we're able to do."