Estimating Team wins first place in TEXO/ASC competition
The Louisiana Tech University Estimating team won first place in the Heavy/Civil Division at the TEXO/Associated Schools of Construction (ASC) Region 5 competition in Irving, Texas.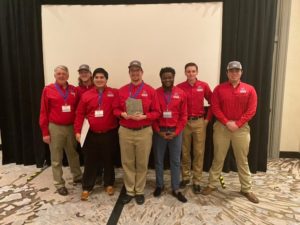 Louisiana Tech's six-member team beat Oklahoma State University, the University of North Texas, Texas Tech and John Brown University to bring home the top prize.
For the competition, each team prepared and submitted a bid within sixteen hours of receiving job plans from the TEXO/ASC officials. The bid included estimating costs, selecting equipment, and making a schedule for completion.
The Louisiana Tech team, Bud Allen, Kyle Conrad, Brice DiVincenti, Jacob Finley, Bryan Grigsby, and Todd Wilson estimated the costs for labor, materials, equipment and indirects in the Construction Engineering Technology capstone room in Bogard Hall at Tech's Ruston campus before leaving for the presentation portion of the competition.
While developing the bid, the team received subcontractor quotes which they compared for cost and quality, looking for realistic expenses that included adequate materials and labor. The proposal included both direct and indirect costs, required bonding, a summary, a markup, a project schedule, and supplementary documents used to create the bid.
In Irving, the team presented an estimate defense to a series of judges, including professionals from competition sponsor Austin Bridge and Road who were involved in the bidding process for the actual job.
Teams were scored in several categories, including Questions and Answers, Estimate Quality, Bid Submittal Compliance and Estimate Review, and Demonstration of Overall Comprehension.
After the presentation, team members networked with companies from around the area and attended an awards banquet.
Louisiana Tech's team leader Jacob Finely says that the team was well-prepared by Reginald Jeter, team coach and construction engineering technology professional-in-residence, and Jeff Pike, senior lecturer in civil engineering and construction engineering technology, who provided the necessary skills to the team during Construction Engineering Technology classes.
"The TEXO/ASC Estimating Competition allows students to take what they have learned in their classes and apply the skills in a real-life situation," he said, "giving them experience on how to prepare a bid in a set amount of time, seeing how it compares to other companies' bids and then briefing the client on how they came to the bid they submitted. An added benefit is that all participants get to interact with other universities and companies."
Jeter says that he is extremely proud of the team's performance.
"I'm truly proud of the Louisiana Tech Estimating Team. They sacrificed their time and worked very hard on this competition. There are many parts and pieces that they had to take into consideration, and they really did an excellent job putting everything together and defending their bid. These students went above and beyond to earn the win."