CASE honors Louisiana Tech communications work
Louisiana Tech University brought home five awards from the CASE (Council for Advancement and Support of Education) District IV annual conference in Grapevine, Texas, including three silver and two bronze awards.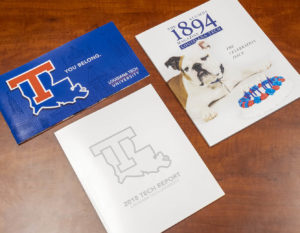 Each year, the CASE Accolades competition recognizes the best advancement-focused work in over 50 categories from social media to print publications. Louisiana Tech competed against universities and colleges within District IV, which includes Arkansas, Louisiana, New Mexico, Oklahoma, and Texas.
"As shepherds of the University's brand, staff in the Office of University Communication strive to set the standard for Louisiana Tech's branding and messaging," said Tonya Oaks Smith, executive director for University Communication and Marketing. "We continue to set the bar for other universities, and I hope that our passion and creative processes inspire others at Tech and beyond."
The awards Louisiana Tech received include:
Silver in Magazines – 1894: The Alumni Magazine
Silver in Viewbook Design – You Belong – 2019-20 Louisiana Tech viewbook
Silver in Fundraising Video – Forever Loyal: The Campaign for Louisiana Tech
Bronze in Annual or President's Report Design – 2018 Tech Report
Bronze in Institutional Television Spots – You Belong: 2019-20 Louisiana Tech institutional spot
Entries in the Accolades competition are judged by a panel of experts who are not current advancement professionals in District IV. Gold, silver, bronze, and honorable mention awards may be given in each category.
Each of the winners in the competition was produced in the Office of University Communications during 2019, and some of the winning projects were produced in collaboration with the Office of Admissions and the Division of University Advancement.