Tech hosts Google workshop for undergraduates across the state  
The Louisiana Tech University College of Engineering and Science and Computer Science program hosted the second annual CREWE (Cyber Research for Empowering Women Experimenters) workshop at the University's Ruston campus over Mardi Gras break.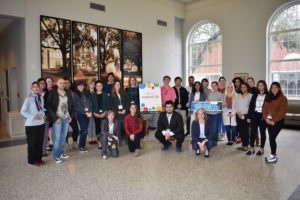 Students from universities throughout the state participated in the Google-sponsored workshop, networking with other undergraduates, graduate students, professors and computing professionals.
Louisiana Tech computing faculty, Dr. Benjamin Drozdenko, assistant professor of cyber engineering, and Dr. Lorraine Jacques, assistant professor of computer science and curriculum instruction and leadership, organized the workshop to encourage undergraduate women to participate in cyber research.
The workshop featured talks on innovative topics in computing, including cyber security, natural language processing, smart cities, the internet of things and cloud computing and was open to Louisiana undergraduate students enrolled in computer science, cyber engineering, computer information systems or related disciplines.
Professors, professionals and graduate students made presentations and led hands-on experiments that gave attendees opportunities to discuss research opportunities, employment options and graduate degrees with them.
Among the speakers were Dr. Nashlie Sephus, a winner of the 2019 Ada Lovelace Award, and Dr. Nicole Beebe, chair of the department of information systems and cybersecurity at the University of Texas at San Antonio.
Sephus gave the opening speech on how to get into tech, think like a chief technology officer, and earn trust in the cyber community. She addressed several topics that are essential to cyber including artificial intelligence, deep learning, computer vision and face recognition.
Beebe delivered the closing address on finding funding and research opportunities, leading students to consider pursuing graduate fellowships through various foundations, federal agencies such as Department of Energy national labs, National Science Foundation, and National Security Agency, and big tech companies.
Attendee and University of Louisiana – Lafayette junior Diana Nguyen says that the workshop was beneficial to her as a computer science major, even though her interests are in computer engineering and video game design and development rather than cyber security.
"After participating in this workshop, I have gained more motivation and confidence in my goal to further my education and attend graduate school," she said. "The most important thing that I learned at the workshop was that computer science research is limitless and evolving and how it is prevalent and applied in many interesting fields. After working with Dr. Jacques during the independent research task, I have more clarity of what I want to study in the future and how I could include interdisciplinary concepts to develop my research."
"This year's CREWE workshop featured keynote speakers who are big names in cyber, including Dr. Nashlie Sephus and Dr. Nicole Beebe," Drozdenko added.  "One major takeaway that students learned from the workshop is that cyber is not simply limited to cybersecurity, but also encompasses cyber education, natural language processing, health informatics, internet of things, the cloud, smart cities, and machine learning. Women were given advice on how to pursue opportunities in graduate school and overcome challenges. Teams of students were inspired to present their own research plans on such topics as counteracting female faculty underrepresentation, data privacy in big tech, storm reaction with internet of things and cloud computing, and adaptive learning through virtual reality games."