Latta joins LTAC as director
Jarred Latta will join the Louisiana Tech Advancement team and athletics family as the director of the Louisiana Tech Athletic Club, Louisiana Tech Vice President Brooks Hull announced today.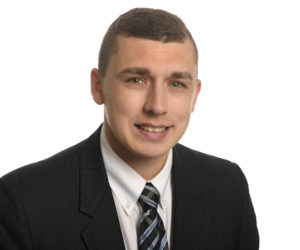 Latta comes to Tech after working for Titan Surgical Group in Lenexa, Kansas.
"We are very excited to have someone of Jarred's caliber join University Advancement," said Vice President of University Advancement Brooks Hull. "With his record of success in fundraising for athletics, we anticipate his leadership to be a vital dynamic for increasing support and improving our student-athlete experience."
Latta worked for the Omaha Storm Chasers Baseball Organization, Triple-A Affiliate of the Kansas City Royals, directly for Tech graduate and President Martie Cordaro, as sales and marketing representative. He also served as new business and development sales consultant for the Aspire Group at the University of Kansas Athletics and was development graduate assistant with the Williams Education Fund for University of Kansas Athletics.
"Jarred brought a great work ethic to the Omaha Storm Chasers when he was on our team," Cordaro said. "His career growth has been exciting to see as we knew he would go on to have success in the sports business world."
With the Omaha Storm Chasers, Latta raised more than $20,000 for Ronald McDonald House Charity through Hurl-The-Pearl campaign in 2016. He exceeded annual goals by 167 percent and led all ticket sales for Kansas football in 2017.
"We are very excited to welcome Jarred and his family to Ruston. Jarred has a proven track record of success in athletic fundraising," Tech Athletics Director Tommy McClelland said. "As a former student-athlete, he knows their everyday demands. He understands the commitment to grow the donor base and how to reach high impact donors. I look forward to working with him to strengthen and increase LTAC in order to better support our student-athletes."
"Louisiana Tech has a storied tradition that is filled with passionate and generous alumni, donors and fans," Latta said. "It will be my constant effort to enrich and enhance that tradition. My family and I are extremely excited to join the Ruston community."
Latta earned his bachelor's degree in sports management and his master's degree in business administration from the University of Kansas. He and his fiancé, Mychal, have a son, Hudson.