Tech team wins first place at Louisiana Transportation Conference
Students in Louisiana Tech University's Civil Engineering program won first place and a $1,000 prize in the 2020 Louisiana Transportation Conference in early March.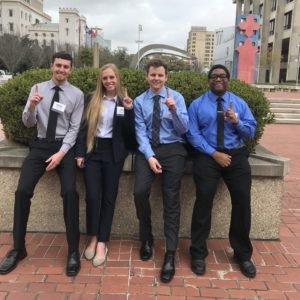 The conference, which focused on "Transportation and Innovation: The Foundation of our Future," provided the students with the opportunity to present the work they've done for their senior project to professionals in Louisiana's transportation industry.
Matthew Barbier, Gabriel Clottey, Mark Veasey, and Sydney Thibodeaux presented the project to attendees and a panel of five judges at the conference.
This work is part of the Senior Projects component of the Louisana Tech College of Engineering and Science curricula. Each year, seniors enrolled in College of Engineering and Science majors participate in hands-on capstone projects or research to showcase their understanding of working processes and fundamental research in their field of study.
The work that this team presented at the conference is based on a project that they were working on for Aillet, Fenner, Jolly, & McClelland, Inc.
Their faculty advisor, Dr. Shawn Sun, assistant professor of civil engineering and construction engineering technology, says that he is proud of the hard work that the students put into the project.