Top 5 – 'Healthy' Musical Works
​Note: During the COVID-19 pandemic, we have the chance to learn a little more about our Louisiana Tech University Family: students, staff, alumni, faculty, and friends. We'll call it Tech Top 5. Go to LATechSports.com for more Top 5s. #TogetherApart
Dr. Michael Austin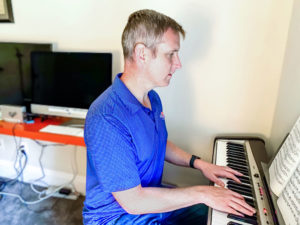 Dr. Michael Austin is the Founding Director of Louisiana Tech's School of Music. He shares with us his favorite musical works related to health and healthcare, "in honor," he said, "of the healthcare professionals and public health experts who are leading us through the current pandemic."
Cantana No. 25 "Es ist nichts Gesundes an mine Leibe" (There is Nothing Healthy in My Body) – J.S. Bach (1723): Written after the Great Plague of Marseille in 1722, Bach sets a text that expresses the heartbreak of suffering through a pandemic. The anonymous lyricist writes: "The entire world is just a hospital, where humanity, in innumerable great throngs, and also children in their cradles, have been laid low with sickness." 
Concerto Pour La Main Gauche – (Concerto in D Major for the Left Hand) – Maurice Ravel (1929): Ravel served as an ambulance driver in WWI; he composed this work for Paul Wittgenstein, a concert pianist who lost his right arm in the war. 
Symphony No. 1 – John Corigliano (1990): Inspired, at least in part, by the AIDS Memorial Quilt project, this symphony was written by Corigliano to commemorate, he said, "my friends — those I had lost and the one I was losing" during the AIDS epidemic of the 1980s and 1990s. 
Dolly from Three Tales – Steve Reich (2002): American composer Steve Reich composed this video opera as a celebration — and warning — about the technological achievements of the 20th century. "Dolly," named after the sheep cloned in 1996, address ethical issues related to genetic research and advanced medical technology. Interviewees that appear in the video include Ruth Deech, James D. Watson, Richard Dawkins, and others. 
 Live Like You Were Dying – Tim McGraw (2004): Written about McGraw's father who was diagnosed with a brain tumor, this song was No. 1 on the Billboard Hot Country Songs chart for 7 weeks in the summer of 2004.