Note: During the COVID-19 pandemic, we have the chance to learn a little more about our Louisiana Tech University Family: students, staff, alumni, faculty, and friends. We'll call it Tech Top 5. Go to LATechSports.com for more Top 5s. #TogetherApart
Carter Carroll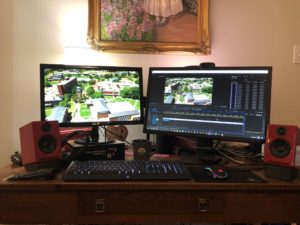 Carter Carroll is the Digital Storyteller – Video in the Office of University Communications at Louisiana Tech. He knows a thing or two about video, so we asked him to share his favorite documentaries or docu-series with us. And stay up to speed with his videos at latech.edu and on all University social media.
1: Any Ken Burns documentary: This might be a cop-out, but who cares. The man is a genius at telling true-life stories. His recent Country Music series was great if you need another series to binge.
2: Wild Wild Country: This Netflix series takes a deep look into the Rajneeshpuram community and their cult leader, Bhagwan Shree Rajneesh. It's a thrilling look into this bizarre cult and their commune in Oregon. Excellent storytelling here, folks.
3: Period. End of Sentence: An Oscar award-winning short documentary from Netflix.  The only short on my list, this doc looks into the story of how Indian women took back their rights to feminine hygiene products in their country. Deserved the Oscar award, for sure.
4: Hoop Dreams: For all the sports lovers out there, this is the one for you. This three-hour long film follows the lives of two high school students in Chicago who want to become pro basketball players. The filmmakers followed their lives for four years. Truly an incredible story.
5: Voyeur: This documentary dives into the story behind the book The Voyeur's Motel by Gay Talese. This is a rather disturbing story, but a fascinating look into the man that wrote the story and the man in it.