Note: During the COVID-19 pandemic, we have the chance to learn a little more about our Louisiana Tech University Family: students, staff, alumni, faculty, and friends. We'll call it Tech Top 5. Go to LATechSports.com for more Top 5s. #TogetherApart
Mary Susan Britt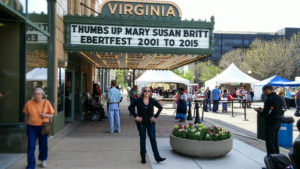 When you serve as the associate director of Roger Ebert's Film Festival (Ebertfest), you learn a thing or two about films. Mary Susan Britt was the glue that held Ebertfest together for 14 years before she moved to Louisiana and took on the role of Executive Director of Development for Louisiana Tech's College of Business.
Though she says it's impossible to pick only five, below is her list of Top 5 movies and her reasons why. Would Roger Ebert have given two thumbs up to these choices?
SPIRITED AWAY: A 2001 Japanese animated fantasy film written and directed by Hayao Miyazaki. During her family's move to the suburbs (a small Japanese town), a sullen 10-year-old girl wanders into a world ruled by gods, witches, and spirits, and where humans are changed into beasts. My daughter and I love this movie and have watched it numerous times together.
BABETTE'S FEAST: This film takes place in a remote 19th-century Scandinavian fishing village, where two devout and elderly sisters allow their cook, a French refugee with a mysterious past, to prepare a feast in honor of their late father's 100th birthday, despite their spiritual concerns over the decadence of French cuisine. What a feast it was! This was probably one of the first independent films I watched.
THE SPECTACULAR NOW: A 2013 American coming-of-age romantic drama film directed by James Ponsoldt and starring Miles Teller and Shailene Woodley. This film screened at the 2013 Ebertfest where I had the great opportunity to meet the director, James Ponsoldt, and actor, Shailene Woodley.
PARASITE: This 2019 South Korean drama film was directed by Bong Joon-ho. Parasite is a wicked and brutal satire about wealth disparity. The film's setup has a poor family, the Kims, infiltrating the lives of a wealthy family, the Parks, by becoming their new employees. Parasite premiered at the 2019 Cannes Film Festival in May 2019, where it became the first South Korean film to win the Palme d'Or. Bong Joon-Ho also directed Okja and Snowpiercer – two other films at the top of my list.
TAKE SHELTER: A 2011 American psychological thriller drama film, written and directed by Jeff Nichols and starring Michael Shannon and Jessica Chastain. Plagued by a series of apocalyptic visions, a young husband and father questions whether to shelter his family from a coming storm, or from himself. This film also screened at Ebertfest with Jeff Nichols and Michael Shannon in attendance.
And, because, there's no way she could only pick five, here are a few extras on Britt's list:
An Education
The Martian
Super 8
The Ice Storm
The Descendants
A Good Year
Almost Famous
Blue Jasmine
Junebug
Another Earth
A Single Man
The Lunch Box
Boundaries