Grad student Courtney Hammons is Miss Louisiana 2020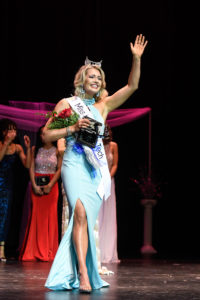 Miss Louisiana Tech 2019 Courtney Hammons is now Miss Louisiana 2020.
A Choudrant native and recent Louisiana Tech graduate in Nutrition and Dietetics, Hammons was crowned last week at a press conference in Monroe, home of the annual Miss Louisiana Pageant. For safety reasons due to COVID-19, this year's competition was postponed until 2021. Miss Louisiana 2019 Meagan Crews is continuing her education out of state so Hammons, First Runner Up to Crews last year, has taken over the crown.
"I'm up for the challenge of 2020. I embrace it," said Hammons, who is pursuing her master's in Nutrition at Tech. "I embrace the adversity because that's where we're going to grow. I'm excited for this year of growth. I can't believe this happened to me, but I'm so honored that it did."
While Hammons said it's "bittersweet" that she won't have the opportunity to compete for the Miss America title since the pageant system is on hold, the bright side, she said, is "I have more time to serve my state, which to me is an honor. That's the one thing we prepare for, is to be Miss Louisiana."
As Miss Louisiana, Hammons will be a goodwill ambassador and spokesperson for both Children's Miracle Network Hospitals and the Louisiana Governor's Council on Physical Fitness and Health, as well as a representative for the Miss Louisiana Organization Corporate sponsors. She will travel the state promoting her social impact initiative — Feed the Food Bank — encouraging everyone to volunteer and donate to local food banks and pantries.
Connecting with individuals and groups will be different for Hammons than it's been for any other Miss Louisiana, but she'll be "very present on social media, virtually of course, and connecting with people that way," she said. "Just using the resources we have in 2020. We've got to be flexible and creative."