Top 5 – Issues of MIS journals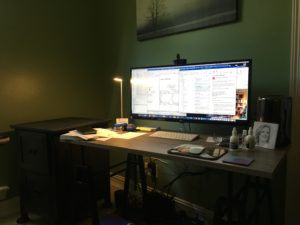 Note: During the COVID-19 pandemic, we have the chance to learn a little more about our Louisiana Tech University Family: students, staff, alumni, faculty, and friends. We'll call it Tech Top 5. Go to LATechSports.com for more Top 5s. #TogetherApart
Dr. Tom Stafford
As the J.E. Barnes Professor and Eminent Scholar in Computer Information Systems and Data Analytics, Louisiana Tech's Dr. Tom Stafford is no doubt an expert in the field of information systems. He has served as the editor in chief of The DATA BASE for Advances in Information Systems, the longest continually-published MIS journal, for 10 years and has served as a guest editor for 13 special issues of journals, including the ones listed below. These are the Top 5 Special Issues he is proudest of because, Stafford said, "they deal with either information security or research methods."
Computers & Security. Special Issue on Advances in Behavioral Information Systems Security Research. Based on the 2019 IFIP WG 8.11/11/13 Dewald Roode Information Systems Security Workshop, hosted by Louisiana Tech.
MIS Quarterly 35(2). Special Research Commentary Series on Advanced Methodological Thinking for Quantitative Research.
The DATA BASE for Advances in Information Systems 49(SI).  Special Issue on New Theoretical Perspectives in Behavioral IS Security Research.
IEEE Transactions on Professional Communication 51(4). Special Issue on Instant Messaging in the Workplace.
Communications of the ACM 48(8). A Special Issue on Spyware.