University Police gets more modern with a new MULE
To better serve and protect the campus, Louisiana Tech's University Police Department has secured a four-door all-terrain vehicle, a first for the department.
The new vehicle comes courtesy of a first responder loaner program by Kawasaki, authorized through Tech friend and supporter McKinney Honda of Ruston.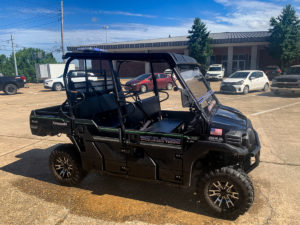 The loaner program allows use of a four-door all-terrain vehicle by first responders for 12 months, after which the vehicle can be turned in or purchased for a discount.
The Louisiana Tech University Foundation covered the cost of insurance for the vehicle for the past year and recently completed the purchase process through the purchase option. The Kawasaki MULE, model PRO-FXT LE, seats six, is operated only by authorized sworn officers with the police department, is currently used mainly for detail in Hideaway Park, and is otherwise stored in a metal shed behind police headquarters.
The department's need of an all-terrain vehicle was most evident immediately after the April 2019 tornado left vehicle access to many areas blocked off by debris; police cruisers or golf carts couldn't reach those areas.
The department equipped the vehicle with lights and used it last fall to get around parking lots during football games. This in late winter and early spring, because of certain COVID-19 mandates, all the parks in Ruston were closed except Tech's Hideaway Park. Foot traffic there and around the Jim Mize Track and Field Complex increased, and so did the presence of the Tech MULE to help runners and walkers feel more safe.
With the MULE and because of the Foundation's support, Tech police can now patrol rougher areas at any time.