Forestry student captures $10,000 scholarship
For the second consecutive year, a student in Louisiana Tech's School of Agricultural Sciences & Forestry has earned the prestigious scholarship of nearly $10,000 from international timber management organization Resource Management Service (RMS), LLC.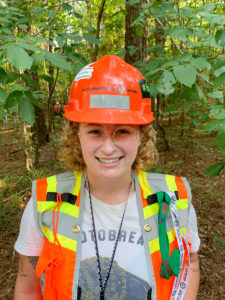 Taylor Linke, a senior and Forestry major with a concentration in Forestry Management, earned the scholarship form RMS this spring and will intern with the company next summer. Natalie Lang earned the scholarship last year, has since graduated, and was hired in late spring by RMS as a permanent employee.
Last year, eight schools received the scholarship; this year, Tech was one of only four schools to receive the scholarship from RMS, which has a vested interest in developing the next generation of forest managers.
Applicants must be a full-time student with minimum class standing of junior. Applications are reviewed on the basis of career goals, financial needs, and minority status (ethnic or racial minority groups and/or women majoring in Forest Management).
Linke found out she'd received the scholarship while on a Zoom call with Dr. Joshua Adams, Dr. Gordon Holley, and most other forestry professors, who decided to have a little fun before telling her she was about to receive, as Lang did the year before, the biggest scholarship the School had ever been granted.
"We said we wanted to talk to her about some cheating going on in one of her classes," Holley said. "I was holding some papers and said, 'Here's the documentation. We're ready to pass judgment but felt we'd give you a chance to defend yourself.'"
"They were all gathered to inform me that they were moving forward with submitting me for an honor violation for cheating in one of my spring quarter classes," Linke said. "After what felt like forever trying to listen without interrupting to defend myself, Dr. Holley held up sheet of paper that announced I had been awarded the internship. I honestly couldn't tell you what my verbal reaction or facial expression was; it all felt like a dream and I was mostly speechless. But inside I was ecstatic and so thankful, I couldn't believe it, and it took me the rest of the day to really let it sink in. I knew it would make a tremendous difference in my senior year and in my future career."
"I think she said she was afraid we were going to give her a heart attack," Holley said. "We all broke down laughing. I was in the military too like Taylor was, so I knew she could take it; if you've served, you're able to take a joke."
Linke took an unusual and unrehearsed route to becoming the second Tech forestry major to earn the School's most expensive scholarship. Straight out of Joel E. Ferris High School in her hometown of Spokane, Washington, she went cross country to the Coast Guard Academy in New London, Connecticut and completed her first two semesters there studying Marine Environmental Science. It wasn't "quite right" for her, she said, so she moved to the New Orleans area where she had extended family to work and save up some money.
"Once I decided to return to school, I chose Louisiana Tech for its location compared to where I was currently living, affordability, and relatively small size," Linke said. "I originally enrolled in Environmental Science but quickly decided I needed to go in a direction I hadn't fully considered before, and switched to the Forestry program. I think both colleges and the lessons I've learned both inside and outside the classroom have played tremendous roles in the student I am today and the forester I will be in the future."
This future forester began like most other foresters-to-be, with a love of being outdoors.
"That is absolutely the start of my interest in this field, but ultimately I wanted to combine my passion for nature, people, and continuous learning," Linke said. "Forestry is an important, ever evolving, multifaceted field, and I know I'll have the opportunity to learn, educate, and collaborate both with other foresters and with the communities and supply chains we interact with on a daily basis."
Linke is "open to different paths," she said, but is confident that when she graduates, "Tech will have prepared me to start a career in any of the many different directions the field of Forestry has to offer." She wants to "work for a company…respectful of the communities they serve in, as well as of the people they employ."
"I am passionate about creating space for education surrounding working forests and the important role forest products play in all of our lives," Linke said, "as well as the safety and mutual success of the forest products supply chain."
She'll be working for a company that's had a long working relationship with the University if she ends up in a career with RMS, who has aided Tech students with lab donations, encouragement, internships, hands-on guidance, and, as Linke will attest, scholarship opportunities.
Forestry majors are exposed to lots of companies at Tech; on Thursday night of every full week of any semester, different companies come to campus to talk to the students, feed them—pizza, BBQ, sandwiches—and introduce their company. That means potential employees are right there in front of potential employers.
Most of the forest management and forest products companies in Louisiana, the U.S. Forest Service, and some from Arkansas and Texas come every year. Every few years, Oklahoma Forestry Services and the Arkansas Forestry Commission sends representatives down to Ruston.
"The next day are interviews for permanent jobs and internships," Holley said. "Most of our seniors are ready to go to work and have jobs by the first of the year. It's the same for internships.
"By late May or early June, companies are calling me to get on the next year's schedule," Holley said. "They're eager to get the best of the best."
​