Top 5 – Things I'm looking forward to
Note: During the COVID-19 pandemic, we have the chance to learn a little more about our Louisiana Tech University Family: students, staff, alumni, faculty, and friends. We'll call it Tech Top 5. Go to LATechSports.com for more Top 5s. #TogetherApart
Kelsey Horath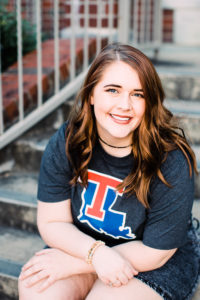 Kelsey Horath is an incoming freshman from Winnsboro. During her upcoming time at Louisiana Tech, Kelsey will be majoring in Communication with a concentration in Journalism. This new Bulldog is excited about a lot of things coming up this fall, but she gave us a quick insight to the Top 5 things she is most looking forward to as a Tech freshman in Ruston.
Journalism and writing classes: After being stuck in my house and limited to the places I could go for the last six months, I am very anxious to get back into a normal classroom setting and write more. I know, I know; you are rolling your eyes at the words "classroom setting" and "writing." But if it helps the situation, notice I did not say math!
Dorm room: As most students are, I am very excited for my dorm room experience! The whole process of decorating and making it my own is what makes me most excited. However, I am not a fan of unpacking, so boxes might still be making appearances at Thanksgiving. I am pretty positive I still have not unpacked fully from my family beach trip in June… Besides all the fun unpacking will bring, I am also very thrilled to live with my roommate and learn college life together.
Petting the mascot: Most students entering Tech or previously enrolled students have had the chance to pet Tech's live mascot at Time Out for Tech, football games, tailgating areas, or social events. Since I have not had the chance to attend any of these events and see the fluffy mascot, I am very excited to meet Tech XXII and pet him. I also absolutely love animals so I really cannot help the fact I want to see him with my own two eyes.
College football: Growing up, football has always been the talk in my home. If my brother was not playing or my dad wasn't talking stats with friends, I would be at every high school football game cheering. I am now looking forward to experiencing a college game in the student section, with friends, and as an official Bulldog!
No class dismissal bells: In high school, I always despised the dismissal bell for some odd reason. When I needed time and patience for an assignment, I felt like the bell was always there rushing me. In the moments I had all my work done and wanted the day to fly by, the bell went as slow as Eeyore from Winnie-the-Pooh. Knowing a dismissal bell will no longer be in my classroom setting makes me very excited to attend college and class!