Joshua Mote, mom to walk together in Sunday commencement exercises
Louisiana Tech offensive lineman Joshua Mote will walk across the stage Sunday during fall commencement exercises and accept his diploma from Tech President Dr. Les Guice after earning his bachelor's degree in Health and Physical Education.
And although graduation day is always special, Sunday will be even more memorable for the Mote family.
Why?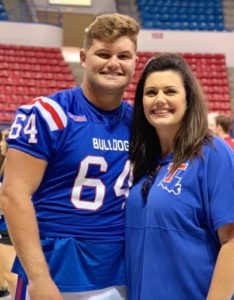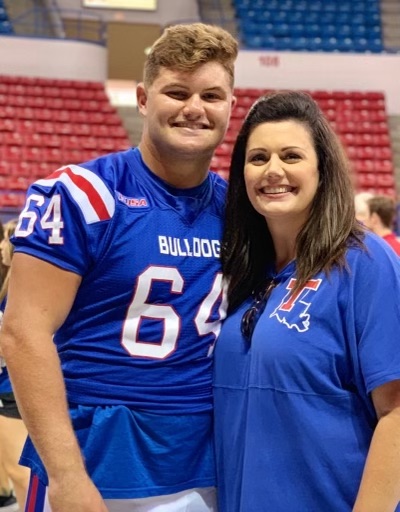 Not only will Joshua participate in the event, but his mother Kandace will as well. Kandace completed her master's degree in educational leadership during the spring quarter of 2020, but due to the COVID-19 pandemic, she was unable to walk.
Until now.
"I wanted to walk because I did not walk for my bachelor's degree," Kandace said. "That's something I've always regretted."
Kandace earned her bachelor's degree in English education from Louisiana College, where she played basketball for the Wildcats (1992-96). She actually started as a freshman and scored eight points and grabbed 8 rebounds in a 96-61 loss to the nationally-ranked Lady Techsters on Jan. 2, 1993.
Her older brother, Josh Bradley, attended Louisiana Tech (1995-97) and played tight end for the Bulldogs. In fact, it was Josh Bradley who set Kandace up on a blind date with his Bulldog teammate Mike Mote during their playing days in Ruston.
Who knew it would eventually lead to additional Bulldog lineage more than two decades later.
"Tech is such a big part of our family," said Joshua. "My dad went here and my mom's brother went here and played football. That's how Mom and Dad met."
After a stellar prep career for the Tigers, Joshua graduated from Oak Grove High School in 2017. He signed to play for the Bulldogs. When he enrolled in the fall of 2017, so did his mother.
The 24-year veteran school teacher, who currently teaches English at Oak Grove High School, said she had multiple reasons for enrolling to go back in school 20 years after completing her bachelor's degree.
"I would not have done this if I didn't feel like it was God's will for me to do it," said Kandace. "I have two other younger children at home and my husband is the pastor at the church, so we're busy all the time. It was just God's perfect timing.
"He knew that my heart would be sad because Joshua graduated high school, so that was a blessing that we got to see each other more which kind of helped me with the process of having a child leave home. It was just a great experience, and I loved every class I took."
In the early stages of the pair's shared academic career at Tech, Kandace drove from Oak Grove to Ruston a few times a week for class. Those times provided her an opportunity to visit with Josh.
"She would come into town and help me with my laundry or take me out to eat or whatever," said Josh. "It was nice having mom here on those occasions."
Joshua Mote is proud of his mom's newest accomplishment: he's watched her commute to college more than an hour from home, teach high school full time, and take care of her family.
"It is a very good example to follow," said Joshua. "She has set the standard in a way. The biggest thing she showed me is if there is something that you want to do, no matter how busy you may be, you can do it as long as you put forth the effort and hard work.  It is hard to express how proud I am of her."
According to Kandace, her family was her motivation.
"I wanted to do this for my children," Kandace said. "I wanted them to see that you can do hard things. Yes, I had a full-time job and two children, but I also enjoyed every minute of it. The sacrifice was worth it.  I hope that has been an example to them.
"Even though there's been lots of stress involved and it took time away from different events that my younger children participated in, they understood that there are sacrifices to be made. We talked a lot about that as a family. When God calls you to do something, go for it because he's going to be with you every step of the way."
Joshua was also planning on graduating in the spring, but ended up having to push it back to the fall quarter.
"It ended up working out where we both could walk together on Sunday," Joshua said. "At first, my mom said was she wasn't going to walk. She wanted to make it my day, but I would not want it any other way than to be able walk with my mom. Not many people get to do that, so it's a great opportunity."
Though Kandace was initially hesitant about participating in the graduation ceremony this fall, Joshua wanted them to walk together.
"He's just got a big old heart and he loves his mom," Kandace said. "This has been one benefit of corona for our family as my graduation was pushed back so that we could experience this together."
When Joshua first arrived at Louisiana Tech, his goal was to finish his bachelor's degree in three years. Now he gets to celebrate achieving that goal and share the graduation stage with his mother this weekend.
"I'm very excited I get to spend that moment with my mom and all my family," said Joshua, who plans to pursue his master's degree in counseling and guidance from Tech. "Not many people get to experience that. It will be great."
"It's going to be a special moment for us as a family because we know the process and the hard work that we put into it, and the sacrifices we made," Kandace said.