Top Five – Things about the College of Engineering and Science
Note: During the COVID-19 pandemic, we have the chance to learn a little more about our Louisiana Tech University Family: students, staff, alumni, faculty, and friends. We'll call it Tech Top 5. Go to LATechSports.com for more Top 5s. #TogetherApart
Sam Parker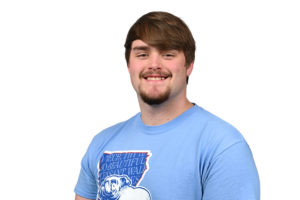 Sam Parker is a Louisiana Tech freshman mechanical engineer major from Gilbert. He enjoys all things both Ruston and Tech, but he especially appreciates the program he calls "home." Here are Parker's Top 5 Favorite Things about the College of Engineering and Science.
Hands-on learning: I enjoy solving problems with hands-on contact and in-person visuals. Being in this program allows me to do this while still being given new challenges to overcome.
Never being bored: Boredom is something I despise running into because I enjoy being challenged and moving at all times. Engineering allows me to constantly move and always have something to participate in.
Creativity: While engineering brings me new challenges daily, it also gives me a space to be creative and use my imagination. Having the opportunity to bring certain ideas and pictures to life is a wonderful feeling.
Diverse students and staff: The opportunity engineering has given me to meet so many new people with different opinions, backgrounds, and cultures has been an amazing plus, considering I love socializing and meeting new people.
Opportunities: The opportunities for engineering students and professionals are endless. You are able to travel, work on creative job sites, have flexible hours for home life, and enjoy countless other perks. My goal is to work as an Imagineer at Disney World one day, to use my creativity to bring laughs and smiles to families. This program and College are my first steppingstones toward that dream.