Singleton, Hinckley to speak at pair of Winter '21 commencement ceremonies
Longtime Louisiana Tech supporters and graduates Bruce Singleton and Justin Hinckley will each offer a keynote address at one of the University's two Winter 2021 commencement ceremonies Saturday, March 6 in Thomas Assembly Center.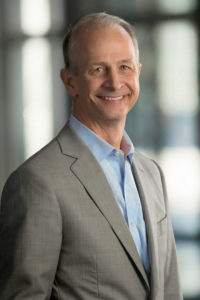 Singleton will be the keynote speaker at the College of Business and the College of Liberal Arts ceremony at 9 a.m.
Hinckley will offer the keynote address at the College of Applied and Natural Sciences, College of Education, and College of Engineering and Science ceremony at noon.
Commencement has been divided into two ceremonies in order to maintain appropriate physical distancing within the TAC.
Singleton, Senior Vice President, Network Development Strategy at Multiplan, Inc. in Dallas, has 30 years' experience in the operational, financial, and mergers and acquisitions activities in the healthcare industry.
A 1985 and 1986 accounting graduate, Singleton is an engaged alumnus committed to the success of the College of Business and Louisiana Tech. He credits his professional success to the business knowledge he received at Tech, an education that provided him with the strong foundation that he has applied across multiple disciplines. He is passionate about mentoring students, often serving as a guest lecturer in classes to inspire current students through his own story and experiences. Singleton has worked to expand the College's network in the Dallas-Fort Worth area, and provides effective leadership in fundraising, student recruitment, advocacy, and stewardship for the College of Business.
Deeply invested in the University's mission and vision, Singleton has provided financial gifts to support new and innovative programming for business students and establish an endowed scholarship through the Forever Loyal Campaign that focuses on the tenets of Tech. He has also planted seeds to support future business students with a legacy gift commitment. He and his wife, Elizabeth, and children, Caroline and Emily, live in Dallas, Texas.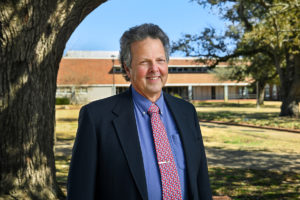 Hinckley, Class of 1978, was Tech's Alumnus of the Year in 2010 and is just as likely to be picking up trash or trimming hedges on campus as he is to be establishing an endowed scholarship or financially supporting a start-up program.
A computer science major, he worked at Pratt and Whitney Aircraft, Cities Services Co., United Technologies Research Center, and Mobil Oil in capacities ranging from programmer/analyst to systems manager. He started work at Cleco, an energy services company based in central Louisiana in 1988 as a staff programmer and moved up to analyst, manager of business services, and in 2000 was promoted to general manager of technology services, a position he served until his retirement in 2008.
Also a Class of '78 graduate, his wife Jeanette majored in English education, was the College of Education's Distinguished Alumna for 2016, and is the other half of this longtime dynamic duo for Tech.