New research tool developed at Tech achieves success on International Space Station
Two months after technology developed by Dr. Gergana G. Nestorova, Assistant Professor of Biological Sciences at Louisiana Tech University, was launched into space, Dr. Kate Rubins, an astronaut on the International Space Station (ISS) validated that the technology worked.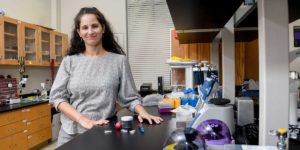 The new tool that featured a microscopic pin for rapid extraction of RNA was launched on SpaceX CSR-21 Dec. 6, and the test of the equipment was completed in the early hours of Feb. 16.
Nestorova's tool prevents genomic contamination of the sample and enables repeated sampling of the biological specimen multiple times. The study was a collaborative project with the WetLab-2 team at NASA Ames Reasearch Center. The work on this project provided NASA research training opportunities to undergraduate and graduate students in Louisiana Tech's School of Biological Sciences and Molecular Sciences and Nanotechnology program.
"For this experiment, we developed a method for the functionalization of gold-plated microscopic capture pins for RNA purification,' Nestorova said. "This project was a team effort that took over a year to meet all NASA ISS payload guidelines. The feedback that we received from Dr. Kate Rubins in real-time while she ran the test was excellent and very useful. The gene sampling method is very time-efficient and therefore could reduce significantly the crew time dedicated to sample processing."
Dr. Bill Campbell, Director of the School of Biological Sciences, echoed Nestorova's excitement about the possibilities of research activity at Louisiana Tech.
"This is a great accomplishment for Dr. Nestorova and her research program, and it also reflects well on the research activities that are ongoing at Tech," Campbell said.
Louisiana Tech LaSPACE Representative Dr. Mary Caldorera-Moore echoed Campbell's enthusiasm about future research and connections between Tech and the nation's efforts in space.
"It's thrilling to see research developed here at Louisiana Tech by our faculty and students, some of which who have also been Louisiana Space Grant Consortium (LaSPACE) fellows, to make it to experiments on the ISS," Caldorera-Moore said. "A goal of LaSPACE is to enable researchers to achieve success in areas that involve study in space, and getting something on the ISS is a huge accomplishment."