LTRI supports Air Force Global Strike Command, northwest Louisiana partners
The Louisiana Tech Research Institute (LTRI), a center of excellence within Louisiana Tech University, provides interdisciplinary research and education capability to government and industry sponsors to solve emerging problems.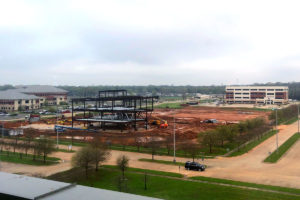 Located in Bossier City, LTRI provides Air Force Global Strike Command (AFGSC) and other northwest Louisiana partners access to Louisiana Tech's research infrastructure and faculty. The synergy provided through interdisciplinary science, engineering, policy, and educational expertise is designed to solve complex problems for government agencies and industry. LTRI facilitates public-private partnerships through a flexible business environment to stimulate Louisiana's knowledge-based economic growth.
LTRI has partnered with the Cyber Innovation Center in supporting several specific AFGSC issues. AFGSC is responsible for the nation's three intercontinental ballistic missile wings, the Air Force's entire long-range bomber force, the Air Force Nuclear Command, Control, and Communications systems and operations, and maintenance support to organizations within the Air Force nuclear enterprise.
Support provided to AFGSC includes the following:
Nuclear Command, Control, and Communications (NC3) continuing professional education programs for military and civilian professionals. Three courses were developed and are taught by LTRI to ensure NC3 professionals are educated on emerging threats, technology trends, national policy, and advocacy for future modernization efforts.
Global Near-Peer Competition Concepts and Applications Workshops. Designed for AFGSC squadron commanders, scenario planning sessions approach deterrence from a variety of perspectives to enhance strategic thought. Leaders examine broad current world events in light of the United States National Security Strategy's four pillars to protect the homeland, promote American prosperity, preserve peace through strength, and advance American influence.
COVID-19 Modeling. Louisiana Tech professionals researched and analyzed reliable public health data, and then developed models to follow progression on major AFGSC and other Air Force installations. The information was utilized by senior military officials to make informed decisions regarding health and safety postures for all installation personnel.
Internships (utilizes six undergraduates, seven graduate students, and four faculty):
Portfolio Level Digital Engineering Platform (PDEP). This effort provides a digital environment that will help AFGSC staff understand mission risk and interact with data and models to formulate courses of action to mitigate risk and support decision making. PDEP will be fed by both mission data and validated algorithms and secure computational capacity, and will utilize external stakeholder inputs and analytic software.
NC3 Modeling and Simulation. The effort seeks to model digitally a complex system used for critical national communications capabilities. Modeling provides senior decision-makers the tools needed to understand the impacts of losing a node or adding modernized capability to the existing communications system infrastructure while ensuring full mission capability.
Knowledge Management. The effort seeks to identify, catalog, and make actionable recommendations regarding communication and project development (challenges and best practices), both vertically to and from senior leadership, and horizontally in the organization.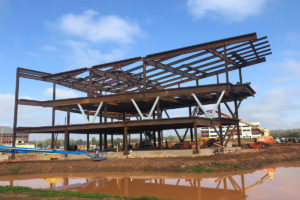 Currently housed in the Cyber Innovation Center, the LTRI team is watching its future home take shape. In September 2020, groundwork began on a new high-tech 74,000-square-foot facility in the National Cyber Research Park. The facility is expected to be completed in Summer 2022 and will provide the LTRI staff, government, and industry partners highly secure research spaces and classrooms to support sensitive projects and presentations.
LTRI is supported by the Louisiana Tech Applied Research Corporation (LTARC), a 501 (c)(3) organization affiliated with the University. LTARC is a multi-disciplinary, agile, innovative, and responsive organization designed to meet the needs and opportunities presented by our regional and national community's ever-changing demands. LTARC is uniquely positioned to serve as a catalyst for innovation to solve complex problems, drive economic advancement, sustain superior applied research and education, and foster collaboration.
While LTRI's current efforts are primarily focused on supporting AFGSC, the team plans to continue to partner with other federal, state, and local governments and private industries to utilize Tech's research capacity. Those efforts are aimed at providing solutions for complex problems, growing the regional knowledge-based economy, and providing significant opportunities to keep college graduates within Louisiana.