Co-director of Dog Aging Project to give Biological Sciences seminar
Dr. Daniel Promislow, co-director of the Dog Aging Project and professor of Laboratory Medicine and Pathology at the University of Washington School of Medicine, will discuss his team's massive project to study the aging processes of our canine companions at 3:30 p.m. Monday, April 12, on WebEx. This virtual event is free and open to the public. Registration is required; follow this link to register.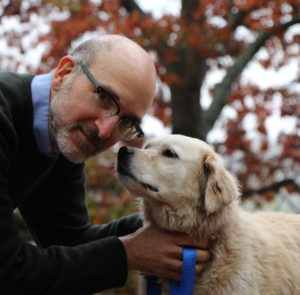 This event is part of the Louisiana Tech School of Biological Sciences' Seminar Series.
The Dog Aging Project is an innovative initiative that brings together a community of dogs, owners, veterinarians, researchers, and volunteers to carry out the most ambitious canine health study in the world. The initiative is a citizen science project, and all dog owners are encouraged to nominate their dogs for inclusion in the study. The goal of the Dog Aging Project is to understand how genes, lifestyle, and environment influence aging, and to use that information to help pets and people increase their health span, which is the period of life spent free from disease.
"Dogs are a great model for human aging," Promislow said. "They get many of the same diseases we do. They live in the same environment as we do, get more or less the same physical activity and face issues of overweight and obesity like we do. And what would take many, many decades to learn in humans, we can learn from dogs more quickly."
To learn more about the Dog Aging Project or to nominate your dog, visit dogagingproject.org. Also, see recent media coverage at these sites: NY Times, AARP, BBC Science Focus, Discover Magazine
The initiative is funded by the National Institute on Aging, the Annenberg Foundation, the Glenn Foundation for Medical Research, the William H. Donner Foundation, and by individual donors.
For more information contact Dr. Terri Maness, Associate Professor and Environmental Science Program Coordinator, School of Biological Sciences, 318.257.2724 or tmaness@latech.edu.