Online MBA ranks high on Fortune's first-ever list of top programs
Louisiana Tech University's Professional Online Master of Business Administration has been named to Fortune's first-ever higher education ranking. The College of Business was ranked No. 40 in the nation, and the only institution in the state to rank within the top 50.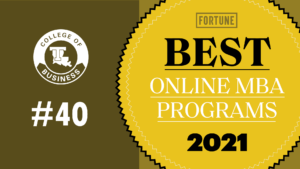 "We're thrilled to be included in Fortune Education's first-ever ranking, particularly because of the methodology used and the prestige associated with Fortune in the business world," said Dr. Chris Martin, Dean of the College of Business. "During a time when many MBA programs have seen significant decreases in enrollment, I'm pleased that our graduate programs have flourished. We continue to provide a relevant and innovative education with a high return on investment."
The ranking coincided with the launch of Fortune Education, and evaluated four components: program score, Fortune 1000 score, brand score, and prestige score. Notably, the Fortune 1000 score looked at the number of MBA alumni who are C-level executives at the 1,000 largest U.S. publicly traded companies ranked by revenues. Other metrics included enrollment, retention, and graduation rates, in addition to average GMAT scores and brand awareness among business professionals and hiring managers.
Louisiana Tech's Professional online MBA provides an interdisciplinary approach that prepares innovative and ethical leaders for success in today's rapidly changing business environment. The program is designed to provide a solid foundation in all business disciplines while integrating technology and innovation and exploring business issues in a global context. The online delivery method makes learning convenient for those who cannot attend a consistent class schedule and prefer to work at their own pace.
The College of Business also offers several other delivery methods for the Master of Business Administration including the Traditional MBA taught face-to-face on Louisiana Tech's Ruston campus, the Executive MBA designed for students with management experience, and the Hybrid MBA with concentrated coursework in computer information systems and information assurance.
Graduate certificates in business administration and information assurance as well as a Master of Accountancy (MAcc) and Doctor of Business Administration (DBA) are also offered as part of the College of Business' graduate programs.
Currently, the College of Business has temporarily waived the GMAT requirement for applications to the MBA and MAcc programs for the Summer and Fall 2021 quarters for applicants with a minimum undergraduate GPA of 3.2.
"We are still living in unprecedented times. We decided to extend the waiver through the Fall to support our prospective students who are navigating admissions and enrollment processes in the midst of the global pandemic," said Martin. "We want to help eliminate barriers to provide flexibility for those wanting to continue their education. Additionally, many academic testing sites across the world remain closed."
For more information about these programs, the GMAT waiver, or to apply online, visit mba.latech.edu. For more information on FortuneEducation, visit fortune.com/education/business.