Hamrick receives Argent Financial's Hambidge Center Fellowship
Ruston visual artist and Louisiana Tech School of Design professor Frank Hamrick is the recipient of Argent Financial Group's Fellowship for the 2021 Hambidge Center's Creative Residency Program, which includes a $700 stipend and a two-week residency at the Hambidge Center in Rural Gap, Ga., in July.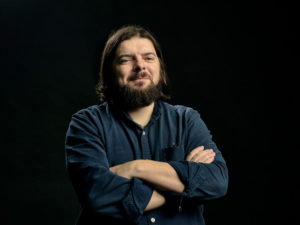 Hamrick is a tintype photographer and book artist, inspired by objects, the surrounding environment and the human experience. Besides serving as a professor, he is also Tech's Master of Fine Arts Graduate Program Coordinator. Hamrick has also taught at the Penland School of Craft in North Carolina and the University of Georgia's study abroad program in Cortona, Italy.
"I am honored to be chosen for this residency at the Hambidge Center," said Hamrick. "I look forward to spending this time focusing on my art and creating new work."
Hamrick was born in Georgia and grew up in the South, where he started taking photographs at age 10. He earned his Bachelor of Fine Arts at the University of Georgia and his Master of Fine Arts at New Mexico State University.
"We saw several great applicants for the Argent Financial Fellowship this year, but Frank's work and passion stood out from the start," said Hambidge Center Executive Director Jamie Badoud. "We're certain he will make the most of his time at the Hambidge Center, and we can't wait to see what he creates here."
Hamrick's work is housed in several art museums — including The Amon Carter Museum of American Art, the Art Institute of Chicago, and The Ogden Museum of Southern Art — and his photography has been featured on several magazine, book, and record covers. He is the recipient of the 2017 Houston Center for Photography Fellowship and was awarded first place in the 2017 Los Angeles Festival of Photography's Photobook Competition.
"It is very rewarding to support yet another Ruston resident in their artistic endeavors," said Argent Financial Group (AFG) CEO Kyle McDonald. "Our community is enriched by artists like Frank, and we look forward to what he creates during his time at Hambidge."
AFG is a leading independent fiduciary wealth management firm and one of the University's most loyal friends. Argent makes the Fellowship available to applying residents of Ruston who work in writing, visual arts, dance, ceramics, culinary arts, or music. All applicants were evaluated by the Hambidge Center's panel review process.
For more than 85 years, the Hambidge Center has been nurturing creative talents within the arts and sciences at its 600-acre creative sanctuary in the Blue Ridge Mountains, providing the space and time needed for visionary works to be conceived and developed. Nine individuals are in residence at any given time — each has private accommodations and studio space, and shares communal dinners prepared by the Hambidge chef. The public is invited to the Center on Saturdays for a series of programs that include artist talks, nature hikes, gristmill visits, weaving demonstrations, gallery openings, and other special events.