AFROTC commander commissioned in Space Force
At Louisiana Tech University, you can find different people with special talents, hobbies, stories, and backgrounds around each corner. On the 14th floor of Wyly Tower, you can find one of these individuals, Lt. Col. Christopher S. Ritter, with his engaging stories about his experience in the United States Air Force and journey into the United States Space Force.
Ritter was born in England, as his dad served in the Air Force. Growing up, he was accustomed to military life.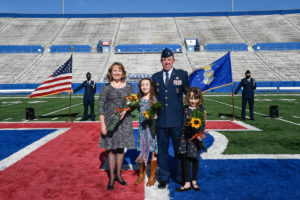 "I grew up in a military family," he said. "I have a brother in the Air Force. My father and sister were in the Air Force. And I had an uncle in the Army and my grandfather was in the Navy."
After attending the Reserve Officer Training Corps (ROTC) at the University of Portland, in 2002, Ritter joined the United States Air Force and began his military career.
Ritter's first assignment was for five years at Malmstrom Air Force Base near Great Falls, Montana, where he pulled nuclear alert duty and stood ready to launch up to fifty nuclear-tipped intercontinental ballistic missiles. During this time, he also deployed to Baghdad, where he worked a Secret Service-style job, taking responsibility for the protection of Iraq's political leadership.
Afterward, he took a satellite command and control space assignment at Schriever Air Force Base in Colorado Springs, Colorado, during which time the Air Force had to decide which of its ranks would serve in space assignments, called 13S, and which personnel would serve in nuclear assignments, or 13N.
Ritter's satellite commanded control assignment was within 13S, and it was where he wanted to serve. Still, he had to wait for the Air Force to make the final decision that would permanently lock Airmen into either space operations or nuclear operations. Seeing the impending writing on the wall, Ritter earned a master's degree in space studies from the University of North Dakota. It was through UND's space program that Ritter had the opportunity to tour Moscow, Russia's, cosmonaut training center in 2007, an adventure that he calls "the trip of a lifetime."
After a board met and assigned people to 13S or 13N, a "relieved, happy, and overjoyed" Ritter received the news he had been placed on the space list.
"There was no more going back and forth between nuclear and space," Ritter said.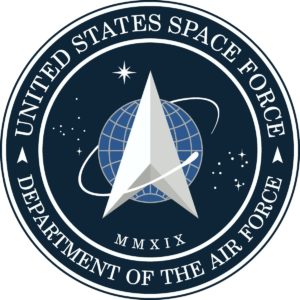 Ritter's next assignment took him to Headquarters Air Force Space Command at Peterson Air Force Base, Colorado, where he was responsible for space training and evaluation across the entire Air Force. Also while at Air Force Space Command, he served as the executive officer to the Director of Air, Space and Cyberspace Operations.
"That was the toughest job I have ever had," he said. "I averaged 95 hours a week, Monday through Friday, for a year. If you do the math, that averages out to about five hours a day where I was not actually in front of my computer. Fingers crossed, that was the hardest job I'll ever have."
In the years following, Ritter completed two more assignments before landing at Louisiana Tech:
Crisis Action Planner for nuclear, space and cyberspace operations at United States Strategic Command at Offutt Air Force Base, Nebraska.  While there he was also selected to be the executive officer to the Director of Global Operations.
Teaching NATO members and partners about NATO's use of space and NATO's Operations Planning Process at the NATO School in Oberammergau, Germany. While there he was also selected to be the NATO School's assistant Chief of Staff.
"From there I got an assignment to Louisiana Tech to be the Commander of Air Force Reserve Officer Training Corps Detachment 305," where he is responsible for training future Air Force officers, Ritter said. May 2021 marks two years since he joined the Tech Family.
Since Ritter has been at Tech, there has been a huge addition to the United States military. This new implement is known as the United States Space Force.
"While here at Tech, I was presented with another choice: do I stay with the Air Force and leave space, do I transfer to the Space Force and leave the Air Force, or do I leave the military altogether?" he said. "Just like before, the Air Force came to me and said I needed to make a recommendation on what I wanted."
However, it seemed clear that the Air Force wanted anyone who was a 13S to transfer to the Space Force.
"Even though we were given an option," Ritter smiled, "we were pretty much expected to transfer, so I said, 'Space Force, please.'"
Ritter's name went on a list with about 600 others sent to Congress for its approval to transfer. Congress approved the list, and in October 2020, he commissioned into the new United States Space Force.
Because everything has an "aura of uncertainty," Ritter feels a "cautious optimism" toward the newly established service. However, he has taken this new challenge head-on and looks forward to what the Space Force will become.
Concerning his mission at Tech, he said it's to "commission new officers into the United States Air Force and now the United States Space Force."
And this is why when you exit the elevator on the 14th floor of Wyly Tower, you might see Ritter with an Air Force emblem and Space Force emblem on the wall behind him, because of his journey thus far and because of the journey which now lies before Tech's ROTC cadets.
This story was written by Communication student Kelsey Horath.