College of Engineering and Science hosts Senior Projects Conference
Louisiana Tech University's College of Engineering and Science held its annual Senior Projects Conference on Friday, May 7.
The Senior Projects Conference is the culmination of the College of Engineering and Science (COES) senior capstone experience – a yearlong series of hands-on and independent study courses in which students develop solutions to real-world problems and create innovative products.
The 2021 Senior Projects Conference was like no other, both in that it was the first to be held in the Integrated Engineering and Science Building (IESB) and in that seniors had to get creative in developing safe ways to collaborate with their teams and their project advisors early on.
Overall, COES seniors created more than 100 projects, and the IESB was abuzz with presentations, demonstrations, and collaboration during the conference, as seniors from all 14 majors within the College shared their capstone projects with their classmates and professors, industry professionals, and sponsors.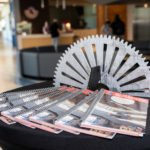 "Our 2021 Senior Projects Conference was a success, with more than 100 presentations and demonstrations throughout the event," Dr. Hisham Hegab, COES Dean, said. "Students prepare for the Senior Projects Conference all year long, and the projects this year required extra effort, especially early during the planning phases, as the country and the campus were under strict pandemic-related limitations during the fall quarter. I'm proud of the work that these students did and that Engineering and Science students did across all our project-based programs."
To see more COES hands-on projects, join us in the IESB for the 2021 Freshman Design Expo from 4:20-7 p.m. Wednesday, May 12, and for our annual hackfest Cyber Storm, at 9 a.m. Friday, May 14.