Global Strike National Security Fellowship program connects Louisiana Tech students with real-world experience
Air Force Global Strike Command (AFGSC), Cyber Innovation Center (CIC) in Bossier City, and Louisiana Tech University are celebrating the first anniversary of the Global Strike National Security Fellowship Program.
Administered through a Partnership Intermediary Agreement (PIA) with AFGSC, the program brought together 13 fellows and four professors from Louisiana Tech and three AFGSC Project Champions for the program last June.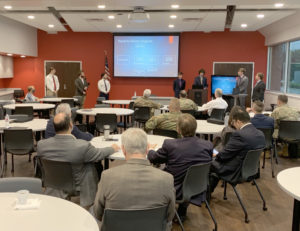 "The fellowship program reinforces the Command's commitment to being innovative and collaborative, strengthens the relationship between academic institutions and the Department of Defense, and presents participating students the opportunity to gain real world experience," said Craig Spohn, CIC executive director. "It will result in a new generation of future hires with technical skills and experience that will benefit the Command by fostering new ideas and accelerating change."
Through the PIA, the Command is able to capitalize on existing local resources to catapult innovation and build out new technology solutions in AFGSC. By executing the fellowship program through the CIC, costly contracts can be avoided while the partners work to grow capabilities.
"It has been incredible to see the energy and outside expertise these students are able to provide to the Command," said Lauren Wheless, a CIC program manager. "The fellowship program serves PIA initiatives for innovation and technology services while also strengthening the relationship between military and local academia."
Seven graduate and six undergraduate Louisiana Tech University students with a variety of academic backgrounds served in the first group of fellows. With the assistance of their faculty leaders, these students partnered with AFGSC Project Champions to provide innovative solutions to three focus areas: Portfolio-Level Digital Engineering Platform (PDEP); Nuclear Command, Control and Communications (NC3); and Knowledge Management (KM).
"This fellowship program provided unparalleled opportunities to our student fellows to solve four unique, diverse problems of interest to our partners at AFGSC," said Louisiana Tech's Dr. Sumeet Dua, who helps lead the Fellowship Pilot Program. "Project champions from the AFGSC provide invaluable expertise, experience, and collaboration. Our faculty researchers provided mentoring to those students and developed a novel alliance with the project champions."
This program benefits both fellows and AFGSC project champions by broadening horizons through a natural knowledge transfer. It also provides experience to fellows and accomplishes AFGSC's technology transfer and transition objectives via meaningful outreach to academia.
Rebecca Bradley, Louisiana Tech's program manager for the fellowship, said the fellows are able to provide crucial external expertise to the U.S. Air Force.
"The Fellowship Program provided a unique benefit to both Tech and AFGSC," Bradley said. "While students benefited by gaining real-world experience in their fields of study, AFGSC benefited from high-caliber students accomplishing the goals established within each focus area. During the final presentations given in May, it was clear that the progress made over the last year would have a lasting impact on the fellows and AFGSC."
The fellows presented their final capstone projects May 19 at the Louisiana Tech Academic Success Center in Bossier City. Successes presented included lessons learned in deciphering data for PDEP, methodologies developed for NC3, and work done to stand up and boost awareness of the KM office across the Command.
"This interdisciplinary network of expertise around shared threads of scientific pursuit offers a scalable and impactful framework for a continued relationship with our research partners," Dua said. "We're excited about the future of this project and the impacts our students and faculty will continue to make through their research endeavors."