VISTA camp allows students to gain interdisciplinary knowledge
Louisiana Tech's Visual Integration of Science Through Art (VISTA) summer camp, funded through Louisiana Gaining Early Awareness and Readiness for Undergraduate Programs (GEAR UP), merged various disciplines last week to allow students to see the multidisciplinary facets of science and art.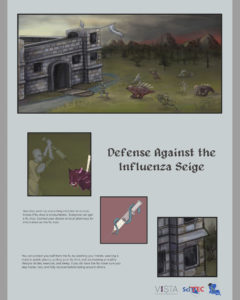 Louisiana GEAR UP is a college education access and preparation initiative administered by the Louisiana Office of Student Financial Assistance (LOSFA), a program of the Louisiana Board of Regents. In partnership with 37 schools in 15 school districts across the state, Louisiana GEAR UP aims to increase the number of low-income students who are ready to enter and succeed in post-secondary education.
The one-week camp at Louisiana Tech, held June 21-25, hosted 15 students from across the state under the guidance of Nicholas Bustamante, a professor in the School of Design, and Dr. Jamie Newman, associate dean for research and graduate studies in the College of Applied and Natural Sciences.
"Students learned how to communicate scientific concepts visually through a series of art and science lessons," Bustamante said. "The work culminated in a large group project that required them to use science knowledge gained and art techniques learned."
Bustamante and Newman led the camp with help from three undergraduate VISTA students: Victoria Breeding, a graphic design major from Choudrant, Geri Gravois, a biology major from Zachary, and Bolton Stegall, a biology major from Ruston. All three students are pursuing a minor in pre-medical illustration.
"The interdisciplinary VISTA initiative led by Dr. Newman and Professor Bustamante exposes our [Louisiana] GEAR UP students to a world of learning and work connecting fascinating aspects of both science and art," said Dr. Lindsey Vincent, associate dean of research, outreach, and innovation.  "Such multidisciplinary approaches are now necessary to solve some of the world's most complex problems."
This is the second year Tech has hosted the VISTA camp. Vincent says she hopes more will be held in subsequent summers.
"These programs allow students to explore college programs and careers in a fun, educational and interactive way that allows the building and expansion of learning that has happened during the academic year," said Dr. Tireka Cobb, director of LOSFA's Field Outreach Services and Louisiana GEAR UP program. "Camps held during the summer help our students see the relevance of what they are working on in school from August to May, and how it all ties into them striding to be successful in life after high school. Understanding that connection, prompts students to be more driven, engaged, and successful in the secondary, and eventually postsecondary arena."
Bustamante said his favorite part of the camp was the power of visual communication and watching the students' confidence and skills developed throughout the week.
"I love working with students and opening their eyes to career opportunities in the arts," he said.
Louisiana GEAR UP's summer learning camps and summer camp partner programs provide college readiness and academic preparatory programs for rising 11th and 12th grade students (sixth through 12th grade students for institutions serving Sabine Parish) who are currently enrolled in Louisiana GEAR UP schools. Camps provide access to a college/career environment and promote experiential learning through themed STEM/STEAM activities. Each experience fosters growth and develops critical thinking, problem-solving, and leadership skills through career exploration, goal planning and more while providing students insight on flagship programs offered by partner universities.