Hinckley Virtual Anatomy Lab a home run for health sciences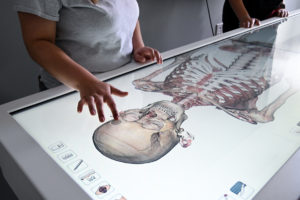 Louisiana Tech students in all areas of the health sciences will benefit from yet another unparalleled, collaborative educational experience beginning this fall with the opening of the Justin and Jeanette Hinckley Virtual Anatomy Lab in Carson-Taylor Hall.
The heart of the lab is the Anatomage Table, the most technologically advanced 3D anatomy visualization and virtual dissection tool for anatomy and physiology education yet created. It works on an operating table form and combines radiology software and clinical content to offer students opportunities to learn at every level, from dissection to studying the body at a single-cell level.
The table contains digitized versions of actual humans who donated their bodies to science and to the development of this technology; the table uses the same technology for select animal "cadavers." Currently available for students are more than 1,600 MRI and CT scans of human and animal development and injury, and more will be downloaded when available as the technology develops and expands.
Pre-vet, pre-med, Biological Sciences, Kinesiology, Nursing, and other health sciences students will benefit from a lab that will impact the whole campus. When the room is not being used for a specific class, it will have posted hours available for reservation by other faculty from across campus and for students to use as a sort of "study hall."
"We are extremely grateful for the many friends and alumni who supported and invested in this project," said Dr. Gary Kennedy, College of Applied and Natural Sciences Dean. "All of the donors had a clear understanding of the impact that it would have on all the health science students across our campus. Justin and Jeanette Hinckley gave a significant gift that allowed its completion, no surprise considering their constant support and encouragement of the University's mission."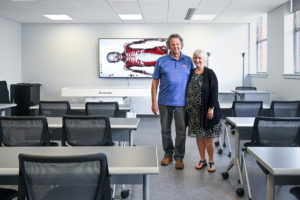 "Our interest in the creation of the lab is a natural outcome of our longtime relationship with the faculty and staff of the College of Applied and Natural Sciences Biology Department," Justin Hinckley said. "We believe in what they're doing and understand the importance of producing students who will become the future problem-solvers and caregivers in our society. In order to do that, they need top-notch resources to support and complement the qualified faculty on Tech's campus.
"The Virtual Anatomy Lab will be used by so many departments across Tech campus — Biology, Nursing, Kinesiology — just to name a few. It's cutting-edge technology that helps position Tech as a premier university in the life sciences. We are proud to do a small part in making Tech a better institution for our students and faculty."
Hinckley, a 1978 Tech graduate in Computer Science, was named Tech's Alumnus of the Year in 2010. Wife Jeanette graduated from Tech in Education and was Distinguished Alumna for the College of Education in 2016.
Such support has brought to reality the vision for the lab that originated with Dr. Jamie Newman, Associate Professor in Tech's School of Biological Sciences, Associate Dean for Research and Graduate Studies in the College of Applied and Natural Sciences, and Director of the research-driven Newman Lab.
"She was a real Bulldog in developing the project," Kennedy said, "from the complete renovation of the room to the selection of the cutting-edge technology that serves as the center of the lab."
"The room was inspired by conversations with medical illustrators who came to Tech through the VISTA Center and showed us that the future of medical and health science education was in technology," Newman said. "Interactive technology like the Anatomage Table, augmented reality, and virtual reality allow students to explore the body in ways they can't with a textbook or even with human cadaver dissection.
Newman said the room really started to become a reality when Architecture Professor Kevin Singh and his Spring 2020 class accepted the task of designing it. Prior to renovation of the room, they studied photos of the classroom, researched other types of virtual anatomy labs, and ultimately created an efficient, clean, and inspiring space that would work for Tech.
"Bringing this technology to Louisiana Tech gives our students across health science disciplines and in the arts a chance to understand the complexities of the human body and provides a new tool for exploration," Newman said.
Instructor D'eane Sheehan and lecturer Dr. Shelcie Menard-Harvey, each in Tech's School of Biological Sciences, are preparing to use the room and the Anatomage Table in their Anatomy and Physiology (A&P) courses this fall. Previously a Physics classroom with risers, the room was completely leveled and remodeled to create a learning space perfect for the technology.
The lab is set up for 24 students and has a class set of iPads that will have the Anatomage companion app, the app for the A&P textbook, and 3D4 Medical, an app with built-in modules to complement what is accessible through the textbook, lecture, lab, and Anatomage table. Four large monitors are on the walls for easy viewing of images on the table. Both the table and the accompanying software are used by medical schools across the country and will help prepare students for their future in medicine, healthcare, and research.
Both Sheehan and Menard-Harvey received online training, then two afternoons of in-person training, to get familiar with the Anatomage Table. They expect to become more comfortable with the table and its many capabilities as they continue to use it along with their students.
"The Justin and Jeanette Hinckley Virtual Anatomy Lab is a game-changer because it adds an extra layer to learning about the human body," Menard-Harvey said. "This provides students with a 3D model of the human body that they are able to manipulate in a variety of ways to achieve a deeper understanding of topics covered in lecture and traditional labs. This table can be used for preparation before traditional lab exercises and reinforcement after those lab exercises are completed.
"The table is a great resource for anyone in the health sciences, as it presents various options for looking at parts of the body, as well as examples of medical procedures that might be performed on the body. There are numerous case studies available for students to see how different conditions might present in the human body. With regards to students interested in veterinary programs, there are various animals that can be viewed using the table as well."
"I know the lab will allow students to have the opportunity to be more hands-on, and the technology will enrich Tech's biology curriculum overall," said Taylor Teach, who completed her undergraduate Biology degree at Tech in May 2020 and is pursuing her master's in Biology while doing stem cell research in the Newman Lab. "It's such a cool addition to campus."
Teach does not think she'll get to use the lab much because her anatomy classes are behind her, but she's thrilled for students in health sciences courses who will immediately discover its value.
"I've popped into the lab a few times just to see the table, and it's insane!" she said. "I was so impressed with the amount of detail it is capable of showing, down to tissue types, nerve endings, and more. It is truly an incredible learning tool, and I'm so jealous of all the students who will get to use it in the upcoming years. I cannot wait to see the other advances Tech is making to enhance our students' learning environment."
A Grand Opening event for the Justin and Jeanette Hinckley Virtual Anatomy Lab is set for Sept.10.