Physics and Engineering team to develop particle detector as part of international, multimillion-dollar grant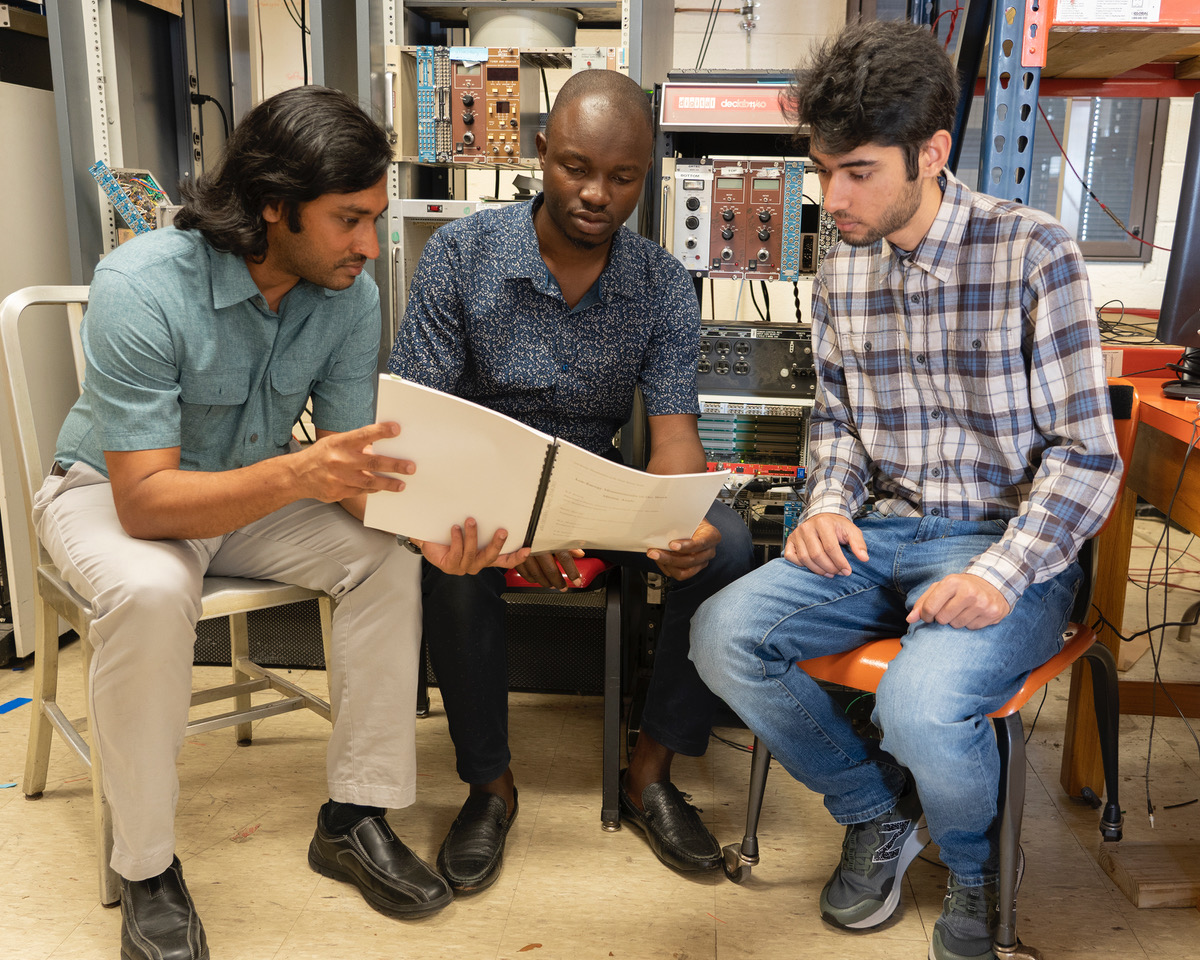 Dr. Rakitha Beminiwattha, assistant professor of physics at Louisiana Tech University, and his team, which currently includes Yusuff Afeez Oluwatobi, doctoral engineering student, and Nirmal Bhusal, mechanical engineering senior, have begun developing a particle detection system as part of the Measurement of a Lepton-Lepton Electroweak Reaction Experiment (MOLLER) at the Thomas Jefferson National Accelerator Facility.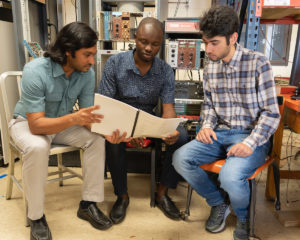 The MOLLER experiment, with principal funding supplied by the United States Department of Energy Office of Science, and other major sources of funding from the U.S. National Science Foundation, the Canadian Foundation for Innovation, and Research Manitoba, is an experiment designed to precisely measure the electron's weak charge, a gauge of how much influence the weak force exerts on the electron. The crux of the experiment will be carried out through the Jefferson Lab's Continuous Electron Beam Accelerator Facility, a Department of Energy Office of Science user facility.
For the experiment, polarized electrons will interact with electrons from atoms inside a liquid hydrogen target. Electrons that scatter from the target will be deflected by spectrometer magnets that will separate the electron-electron scattering signal events from background events, where the beam electrons scatter off of the protons rather than the electrons in the target. The signal events will be collected in state-of-the-art detector systems, a set of which will be designed by the Louisiana Tech team.
A member of the Jefferson Lab and an early member of the MOLLER project, Beminiwattha is a co-PI who authored the National Science Foundation portion of the grant to build a set of particle detectors at Louisiana Tech. He and his team began designing the groundwork for the project in June.
"I've very glad to get this opportunity and am looking forward to working, and more importantly, learning on this project," Bhusal said. "I enjoy 3D modeling, and I'm excited to be working in SolidWorks Modeling to help design and build this particle detector."
Oluwatobi, who selected Louisiana Tech for his doctoral studies specifically to work with Beminiwattha after reading his published research, said that he's proud to be a part of the project and a member of the Louisiana Tech community.
"When I began looking for a doctoral program, my number one goal was to find a university with a high standard for research that would be relevant and impact my future career success. I joined Louisiana Tech's Applied Physics program to become part of Dr. Beminiwattha's research team. This project will help me improve my skills while working on a high-profile grant, and I look forward to bringing new ideas and value to the project while learning new things from the grant.
"From the moment I joined the program, the team has been good and friendly to me both academically and socially. I appreciate the support we've received from the school."
As Beminiwattha, Oluwatobi, and Bhusal push forward with the design phase of the project, Beminiwattha will continue to recruit engineering and science students to work on CAD design and detector construction and testing.
"This is just the beginning of about decade for research that will design, build, commission, run, collect data, and publish results from the MOLLER experiment," Beminiwattha said. "Louisiana Tech will play a significant role in this high-impact nuclear physics experiment."
Overall, the MOLLER project will involve more than 100 nuclear physicists from more than 30 institutions across the United States and Canada, including graduate students and postdoctoral researchers.