Finance grad receives inaugural CFA Society award
Lauren Killebrew has been named the inaugural recipient of Louisiana Tech University's Chartered Financial Analyst (CFA) Society Annual Award of Finance. Awarded by the CFA Society of Mississippi, Killebrew received the honor for her outstanding academic achievements and interest in pursuing the CFA charter, widely considered the investment profession's most rigorous credentialing program.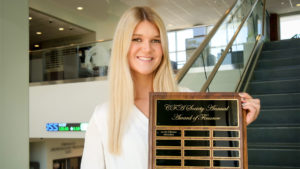 "I am very grateful to have been recognized," said Killebrew, a Shreveport native who graduated in the Spring with her bachelor's degree in finance. "Receiving this award gave me the confidence I needed to continue pursuing my career in finance post-graduation. Also, I hope to influence more women to pursue jobs in finance."
During her time as a student in the College of Business, Killebrew served as an analyst for the Student Managed Investment Fund, and looks forward to putting those skills to work as a portfolio manager or research analyst after receiving her CFA designation.
"As a student, I met many amazing professors and leaders who helped me find my place and who taught me so much," she said. "Being a part of the Student Managed Investment Fund not only inspired me, but gave me real-world experience. I've learned to look at the world and news from a financial perspective, and have a better understanding of how events impact the economy."
Louisiana Tech has been a member of the CFA Institute University Affiliation Program since 2017. This status signals to students and employers that the curriculum is closely tied to the practice of investment management and is helpful to students preparing for the CFA Program exams. As a participating institution, the College embeds a significant portion of the CFA Program Candidate Body of Knowledge into the finance curriculum.
CFA Institute is the global association of investment professionals that sets the standard for professional excellence and credentials. The organization is a champion of ethical behavior in investment markets and a respected source of knowledge in the global financial community. There are more than 170,000 CFA charter holders worldwide and 161 local member societies.
For more information about Louisiana Tech finance program, visit business.latech.edu/finance.