'Vaccines of Past, Present, and Future' topic of New Frontiers kickoff
Dr. Lisa Morici, associate professor of microbiology and immunology at Tulane University School of Medicine, will present "Vaccines of the Past, Present, and Future" as Louisiana Tech's New Frontiers in Biomedical Research Seminar Series holds its first event of 2021-22 at 3:30 p.m. Sept. 27, in University Hall 134.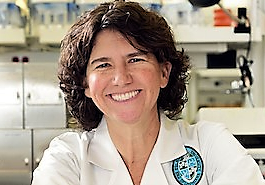 All in the community are welcome to attend the New Frontiers seminars and events and can register here. This season, the seminars will be a mix of in-person (in University Hall) and virtual lectures. All of the lectures will be live-streamed and also viewable on the New Frontiers site after each event.
Morici's presentation will describe the history of vaccines, highlight recent achievements, and identify remaining challenges — including the prevention of future viral pandemics.
Also discussed will be the discovery and development of vaccines — undoubtedly one of the greatest public health inventions in modern civilization. From the ancient use of variolation to the more recent introduction of messenger RNA vaccines, vaccine science has dramatically improved our ability to combat microbial pathogens.
A lover of biology since she was a child, Morici earned an MS degree in Marine Science from the University of San Diego before developing a fascination with infectious diseases and earning her PhD in that program at UC Berkeley.
Her research is not limited to Earth; she was part of a Tulane team of investigators that flew a scientific payload aboard the Space Shuttle Atlantis.
"We were interested in determining if bacteria were more 'pathogenic' in space," Morici said. "We spent months at NASA rehearsing the experiment and were in the VIP section for the actual launch. It was definitely one of the most rewarding experiences of my career, and I'm a huge NASA enthusiast now."
Her advice to students is to learn patience and to "explore every door that opens for you because you never know what opportunity may be awaiting you," she said. "Science is fun and rewarding because it always changes and presents new and amazing challenges."
New Frontiers is a University-wide, year-long seminar series that brings world-renowned scholars specializing in biomedical research to Louisiana Tech for seminars.
Each year, the series takes a look at biomedical research with the intent of demonstrating the broad and interdisciplinary nature of this field. Speakers come from areas of engineering, biology, and chemistry, and all are working to solve the fundamental problem of understanding and treating conditions that impact human health.