Edwards to deliver 15th annual Marbury Ethics Lecture
Louisiana Governor John Bel Edwards will deliver the 15th annual William Ardis Marbury, Jr. and Virginia Lomax Marbury Lecture Series on Tuesday, Sept. 28, at 2:30 p.m.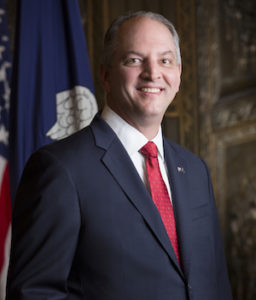 Sponsored by the Mr. and Mrs. Lue C. Napper Family and hosted by Louisiana Tech's College of Business, the lecture will be virtual and is open to the public. Viewers should register online at tinyurl.com/MarburyEthics21 to receive the Zoom link.
"We are honored to have Gov. Edwards as this year's Marbury Ethics Lecture speaker," said Dr. Chris Martin, dean of the College of Business. "Leaders across our world have experienced unprecedented challenges throughout the pandemic, with daily, if not hourly, decisions being made that affected employees, companies, the economy, and society at large. This is a unique opportunity for our students to hear Gov. Edwards' personal experiences surrounding ethical leadership and decision making in the midst of crisis."
Gov. Edwards became Louisiana's 56th Governor in 2016, and was sworn into his second term in 2020. Only a few months following his re-election, the COVID-19 pandemic spread across the world, causing a public health emergency to which local, state, and national elected officials responded by imposing health and safety regulations including stay-at-home orders and mask mandates. The Governor has also led the state through several major natural disasters, as well as legislative initiatives including Medicaid expansion, budget stabilization, and criminal justice reform.
"Ethical leadership is the foundation for who we are and what we teach at Louisiana Tech," said Martin. "The Marbury Ethics Lecture is an invaluable annual event for our students and the community. I'm grateful to the Nappers for their continued support for this lecture series and Gov. Edwards for serving as this year's keynote speaker."
For more information on the Marbury Lecture Series, contact College of Business Senior Director of Development Mary Susan Britt at marysusan@latechalumni.org.