LTCA opens 76th season with Fabulous Equinox Orchestra
The Louisiana Tech Concert Association will begin its 76th season with a free outdoor concert featuring the Fabulous Equinox Orchestra.
The concert will be held at 7 p.m. Oct. 7 in Louisiana Tech University's Centennial Plaza. It is free to the public; no tickets or reservations are required.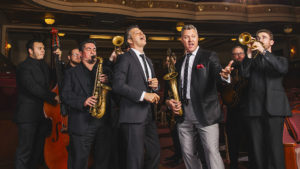 Louisiana Tech graduates Jeremy Davis and Clay Johnson, founders of the Orchestra, will bring their 11-piece band home to Ruston to celebrate with the Tech Family.In addition to the free Thursday evening concert, Davis, Johnson, and members of the Fabulous Equinox Orchestra will present a masterclass for students at Louisiana Tech who are interested in jazz, the music and entertainment industry, and entrepreneurship.
"Louisiana Tech is our home and where it all started for us," Davis said. "There truly is no place like playing at home. We can't wait to see Ruston out enjoying live music together."
Inspired by the style and swagger of legendary entertainers like Frank and Dean and Sammy, Davis and Johnson have made their own revisions to the Great American songbook that includes a dash of Motown, a shot of country, some folk and rock sprinkled on top – and the stories behind them, serving up a musical banquet that feeds every soul.
"When performance venues were closed and audiences were limited last year, we were sorely missing one of the most important parts of what we do – the audience (and preferably a live audience)," said Dr. Michael L. Austin, Founding Director of the School of Music and Director of the Louisiana Tech Concert Association. "So we're incredibly excited to welcome audiences to campus this year, beginning with this free outdoor concert by the Fabulous Equinox Orchestra. Plus, having impressively talented and supportive alumni like Jeremy and Clay back in town to work with our students and to share their music with us is especially exciting."
Concert goers may bring blankets or lawn chairs to the event. Picnic baskets are also welcome.
Since 1942, the Louisiana Tech Concert Association has been bringing world-renowned music, theatre, and dance to Ruston and Northern Louisiana, and LTCA programming enriches the lives of Louisiana Tech University students and members of the community through the arts.