Tech's LS-LAMP program names first cohort
Students, faculty, and family members celebrated the success of five undergraduate STEM students from three colleges who were chosen as the first cohort in Louisiana Tech University's LS-LAMP program.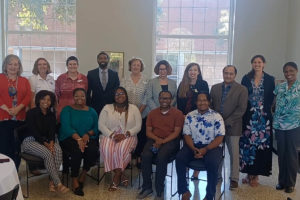 The Louis Stokes Louisiana Alliance for Minority Participation (LS-LAMP) is a statewide program aimed at increasing the number and quality of minority students enrolling in and completing bachelor's degrees in science, technology, engineering, and mathematics (STEM) and going on to pursue graduate studies in STEM disciplines.
"The LS-LAMP program is an excellent example of the transdisciplinary nature of our collaborative campus and showcases the unparalleled learning experiences available to our students," said Dr. Terry McConathy, Provost at Louisiana Tech. "We are proud of these LS-LAMP students and look forward to the success that will no doubt follow them as they work side by side this year with our talented faculty."
Louisiana Tech students chosen to participate in the program and their mentors are:
Mathematics major Emmit Antwine of Bossier City; mentors Dr. Laura Bostick and Courtney Jarrell
Biology major Khalil Brownlee of Arkadelphia, Arkansas; mentors Dr. Terri Maness and Dr. Ramu Ramachandran
Biology major Morgan Fitzpatrick of Shreveport; mentors Dr. Terri Maness and Dr. Becky McConnico
Biology major Aspen Frazier of Alexandria; mentors Dr. Terri Maness and Dr. Sherry Peveto
Industrial Engineering major Symone Jackson of Zachary; mentors Dr. Todd Castleberry and Dr. Miguel Gates
Students in the program are given opportunities to participate in academic research, community service, and mentoring. They are assigned two mentors – one to oversee a custom research project and one to aid them in professional development. Students also establish a peer network, receive a stipend, and present their work at conferences and meetings.
The project is funded by the National Science Foundation through 2025 and is led by Southern University and A&M College in Baton Rouge. Local collaborators include Dr. Laura Bostick, Dr. Miguel Gates, Dr. Lindsey Keith-Vincent, Dr. Shelcie Menard-Harvey, and Dr. Jamie Newman. To learn more about this program, email scitec@latech.edu.