Top 5 – Band of Pride Songs
Note: This series started during the COVID-19 pandemic. Now, we have the chance to learn a little more about our Louisiana Tech University Family: students, staff, alumni, faculty, and friends. We'll call it Tech Top 5. 
Leslee Bennett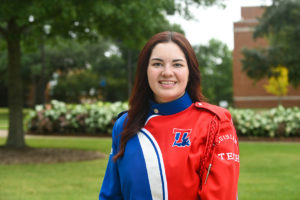 Grayson native Leslee Bennett, senior majoring in Communication, is a clarinet section leader in the Band of Pride. She's also a mentor for the Bridge to Bulldogs Program and a part of the Student News Bureau. When she's not in Ruston, she's at home helping my parents take care of the family's goat farm,  Boer Blessings. The Tech Legacy recently shared the best Band of Pride songs.
Neck – This is probably the most popular song the band plays. When the tubas hit that first note, everyone knows what's about to go down. Everyone just starts having fun and goofing around with each other. I love how every section also has their own form of horn flashes that are different from the others. It's a good song to play to lift everyone's spirits. It's especially fun when the football team gets hyped up and dances with us after we've won a game.
Louisiana Tech Alma Mater – I love this song because it represents the love we all have for Tech. When I'm playing, I tend to look around at the students, faculty, and alumni who are holding up a number 1. It makes me feel like I'm truly a part of a family and that no other college can compare. The band doesn't get to sing the words that often, but when we do it makes it so much more special.
March Grandioso – Not many people know this piece by the name, but it's the last thing we play while we march Pregame. It can be tricky for woodwind players with all the arpeggios, but the reason I love it is because it has an awesome low brass part. When the trombones play their glissandos, or "Wa-Wa's" as they call them, and the rest of the low brass hits their low notes toward the end, it makes it sound that much cooler.
Fireball – This song is so fun to play. It's another one that is very recognizable and that fans have fun with. It also has some cool horn flashes as well. When we "take it down" and "bring it back," it's so fun to see fans dance with us and sing along.
The Horse – This song is played more during basketball season, but it's still fun, nonetheless. This is another one that has horn flashes and it's so cool to see the full band dance in unison. One fun part is when the saxophones run around the band while we are singing the break in the song. They only do this at basketball games, but it's funny to watch and see if they'll make it back to their seats in time to continue playing.