Forestry major earns dream job offer during her junior year at Tech
One thing Louisiana Tech forestry major Sydney McMillan doesn't have to worry about following graduation: finding a job.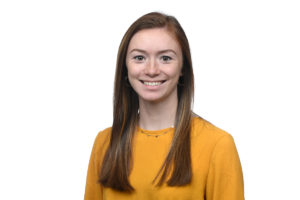 She already has one.
"She interned with Weyerhaeuser this summer and they offered her a job when she graduates," said Dr. Joshua Adams, Assistant Professor in Tech's College of Applied and Natural Sciences. "That is about the earliest we have had someone get a job from a big company that long before graduation; she still has a senior year to go."
"Honestly, this was the second easiest decision I've ever made, with the first being my choosing to attend Louisiana Tech," said McMillan, now a Tech senior. "From the moment I interviewed with Weyerhaeuser, I knew they were a company I wanted to work for. I distinctly remember telling my dad after attending a career night hosted by them that I knew I was going to work for them one day. They truly care about the well-being of their employees, and they have provided me with so many opportunities and learning experiences, just as an intern, to further my professional career."
The real estate investment trust company manages millions acres of forests and is a loyal supporter of Tech and its School of Agricultural Sciences and Forestry. Thanks to a pair of Weyerhaeuser Community Grants, the School now has a mobile classroom, a 7×12-foot trailer wrapped with a custom-made overlay that features both the Forestry Program ("The future is GROWING") and Weyerhaeuser. McMillan is one of the students featured on the overlay; another is former Tech student-athlete, forestry major, and recent graduate Conner Killian, who also interned for Weyerhaeuser and now works for the company.
McMillan, who is earning a concentration in Wildlife Habitat Management, is scheduled to graduate in the Spring.
"I have a lot of professional goals, because I'm rather obsessed with what I do," said McMillan, who graduated from Dutchtown High in Ascension Parish. "For one, I'd like to work in silviculture especially as I start out, because working with the land and seeing what creates the most optimal growing conditions is so fascinating to me. As I continue on in my career, I'd like to eventually be an area manager or an environmental manager.
"With Weyerhaeuser specifically, I'd like to be the region Environmental Management System manager," she said. "They are in charge of all the special environmental concerns, like endangered animals, in their region. Since I'll have a wildlife concentration, this would allow me to continue to work with animals, as well as trees. No matter what I end up doing, as long as I get to be outside, I'll be a happy gal because I get to be outside and can have the opportunity to educate the public on forest management and how beneficial it is to our forests."
While in Ruston, McMillan has mixed her love of learning and the outdoors with extracurricular activities. She's the current Collegiate Chapter President of Tri Delta sorority, Secretary of The Wildlife Society, and a member of SGA's PR cabinet. She's also a game hunter.
Her love of the outdoors and for animals was gradual, but "with forestry, it was most definitely a head over heels tumble," she said. "I wasn't sure what I was getting into when I initially started my forestry classes, but once I got into it, it was a quick and deep love. Everything about it I love.
"It's such an interesting subject to learn about, because there are so many different aspects to it so it just makes me want to learn everything I can, even when some topics are more difficult than others," she said. "And it's such an important career field, because it allows me to be a steward for the earth, and raise forests in the best conditions possible. I love learning about all the practices that go into it, the different uses that different tree species have, and even what insects to watch out for. Not many people are familiar with the field, so I also love that I get to talk to my community about how beneficial forestry is, and how it is more than just logging."