Biology students publish research from LUMCON project
Two summers ago, two Louisiana Tech University students were given the opportunity to travel to the marshes of south Louisiana to research the impact of water hyacinth on estuarine species communities through the Louisiana Tech University and LUMCON Coastal Undergraduate Internship program.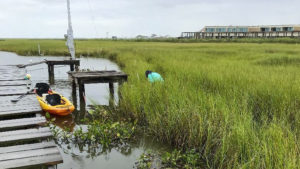 The Louisiana Universities Marine Consortium (LUMCON) allows college students to gain valuable insights into the marine life in south Louisiana. The students' research has now been published in the Journal of Experimental Marine Biology and Ecology, where over 15 million researchers around the world can read the article.
Brittany Hutton of Calhoun and Katheryn Steffins of West Monroe were the two Louisiana Tech students who ran the experiments and analyzed the data for the research. All research was supervised by Dr. Jennifer Hill, an Assistant Professor in the College of Applied and Natural Science, and Dr. Guillaume Rieucau, an assistant professor at the Louisiana Universities Marine Consortium.
The article addresses the impact of tropical storms or other water runoff events on water hyacinth, an invasive floating freshwater plant that can enter estuarine habitats after storms or other water runoff events and grow along marsh edges, that could possibly impact the estuarine species.
"This research allows us to take a deeper look at how climate change, rising sea levels, and habitat loss all are being affected by the marsh loss that Louisiana's coast is currently experiencing," Hill said.
After Hurricane Barry hit the Louisiana Coast in July 2019, Hutton and Steffins spent three weeks studying the brackish water that the storm stirred up. The storms caused the water hyacinth that normally grows in freshwater areas to move down the marsh closer to the Gulf of Mexico. This creates habitat loss for the freshwater species but a new playground for estuarine species.
"After the storm washes the water hyacinth downstream, it hangs out in the saltwater areas and the species that live there are taking advantage of the new resource," Hill said.
The data collected gives insights into how these huge mats of floating plants are a great resource for estuarine species to feed, find shelter, and hide from predators.
"We tethered fish to PVC pipe in order to see what predators would the water hyacinth to their advantage," Steffins said. "We found a diverse community of species in the area that were using these floating plants as a way to build their ecosystem."
Steffins, a graduating senior in Biology, said the experience she gained from her time at LUMCON aided in her knowledge of research, data, and how to communicate what she found with her peers.
"This experience gave me the opportunity to learn how to explain difficult concepts in a way that others who may not be experienced in biology can understand," Steffins said.
Hutton, a graduate of Louisiana Tech, said the research they completed opened doors for her academic success while studying at Louisiana Tech.
"Before COVID, we had the opportunity to present our research at the 2020 Undergraduate Research Symposium which gave me the opportunities I needed to succeed professionally and academically," Hutton said.
This research can be a challenging but exciting experience for students to take part in. It can give students to opportunity to get their feet wet in the world of marine biology research which can help them determine if they want to pursue a more research-heavy field of biology or focus more on a different passion of theirs.
"Louisiana Tech is the only university in the state that has an internship program with LUMCON," Dr. Hill said. "This is a unique opportunity that students would not be able to experience at any other university in the state. It is another reason why our College of Applied and Natural Sciences is an amazing program."
This story was written by Communication student Kelly Cole.