Top 5 – Songs for the Walk to Class
Note: This series started during the COVID-19 pandemic. Now, we have the chance to learn a little more about our Louisiana Tech University Family: students, staff, alumni, faculty, and friends. We'll call it Tech Top 5. 
Sophie Edwards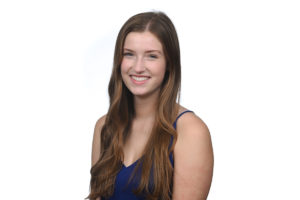 Sophie Edwards is a freshman from Baton Rouge. When she's not studying at the College of Business, Edwards loves spending time with her Kappa Delta sisters, worshipping at Ruston's churches, and taking in the sights on Tech's campus. She is thrilled to be a part of the new Louisiana Tech Student News Bureau and looks forward to sharing the best parts of being a Bulldog.
"You cannot take one step away from your dorm without either seeing someone with headphones on or hearing the anthem of a biker as they zoom past you," Edwards said. "Music is everywhere on our campus. I've compiled five songs guaranteed to send you off to even your least favorite class with newfound energy and enthusiasm."
"Whether you are stressing over a test or swooning over your class crush, music is a powerful tool for motivation, reflection, and empowerment. By decreasing stress and anxiety, music is proven to better the mood of its listeners," Edwards said. "This compilation of songs was created for just that! So, before you set out for class, put on some good, old-time Broadway music or even some classic rock. Just make sure whatever you put in your ears elevates your attitude! Happy listening, Bulldogs!"