First graders lend support to AEP campaign
A group of first graders in Megan Hunt's A.E Philips (AEP) classroom were so inspired by the idea of fundraising for renovations to the school's physical campus and outdoor learning spaces that they decided to help out.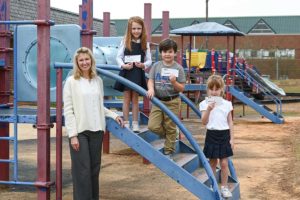 Macy and Layla McGaha and Britton Williams are among the AEP students who have contributed birthday money, allowances, and savings to help ensure all the school's students have a safe environment to learn, grow, play and thrive.
"We work so hard to instill the importance of 'giving back' and school pride in our Bullpups," said Jenny Blalock, AEP Director. "To see these qualities emerge in young students without any prompting was extremely heart-warming, and to see coins falling out of their envelopes of birthday money was the picture of generous hearts. I am so proud of the generosity of these students and the example they are setting."
In recent years, the school's playground has experienced ongoing issues with exposed roots, older fencing, and drainage issues that have caused erosion. The renovation campaign will provide crucial improvements to exterior learning spaces as well as new playground equipment.
For more than 100 years, A.E. Philips has empowered students to achieve their academic, social, and emotional best. Support the A.E. Philips Playground Campaign at latechalumni.org/aep.